ZwickRoell opens a state-of-the-art Demonstration Laboratory in Northern India
ZwickRoell in India is proud to offer a state-of-the-art demonstration laboratory, located at the new Emaar Digital Greens building in Gurugram, Haryana.
The new laboratory accompanies a brand new office, housing 25 employees in sales and service. This further enables ZwickRoell to utilise the connectivity from Gurugram and New Delhi to serve and bring ZwickRoell technology closer to the Northern region of India.
Dr. Jan Stefan Roell, CEO and Chairman of the Board of the ZwickRoell Group, inaugurated the office and demonstration laboratory in India in Gurugram on Friday, 23 August 2019.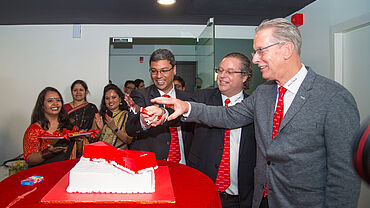 The inauguration event was blessed by the presence of more than 30 customers & partners from diverse industries including academia, automotive, metals and plastics. Dr. Roell presented the importance of Reliable Test Results, followed by revealing of the state-of-the-art laboratory.
"The basis for the growth is service and taking good care of customers."
"We are passionate about excellent consultation - our commitment to you."
Dr. Jan Stefan Roell
Impressions of the networking with other experts in the materials testing field.
The inauguration of the new demonstration laboratory and office in Gurugram adds on to the already well established ZwickRoell Calibration Laboratory and ZwickRoell Academy in Chennai.
Take a closer look at the new laboratory and office space in Gurugram
The demonstration laboratory is equipped with machines for static, dynamic & hardness testing. A team of qualified test engineers and materials testing technicians will help to perform tests on customer's behalf and offer diverse and informative training program to enhance the application or testing software knowledge.