The ZwickRoell Group
Our headquarters in Ulm and our presence around the world
ZwickRoell is a supplier of materials testing machines.
We are a global leader in the field of static materials testing machines. In the area of dynamic testing, we have been successfully providing solutions for fatigue testing systems for decades. We also offer innovative BUP sheet metal testing machines, hardness testing machines and instruments, extrusion plastometers for melt index determination, and products for impact testing.
Our machines are used in research and development and quality assurance in more than 20 industries. Our experts have a detailed understanding of the individual requirements of the different industries and meet your specific testing needs with state-of-the-art solutions.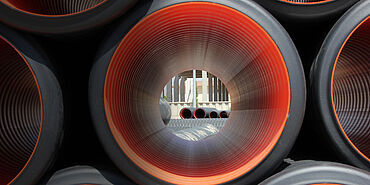 Industry Solutions
Whether plastics or metals, automotive, academia or medical engineering, we offer customized solutions to more than twenty industries. Our wide range of testing machines, instruments and systems are used in research laboratories as well as in production and quality control.
Leader in Static Testing
The ZwickRoell Group is a global leading supplier of static materials testing machines developed by our experts for use in demanding testing situations and in a wide range of applications.
A Technology System
ZwickRoell testing machines are modularly designed. Control electronics, software, test tools, load cells, and extensometers can be adapted to meet new testing requirements through the intelligent plug and T-slotted system.
Worldwide Services
Passionate customer commitment is also top priority of the ZwickRoell Service department. We are active in over 56 countries worldwide. It is our aim to provide excellent service throughout the entire product life cycle.
As a global leading supplier of innovative materials testing systems, we are represented by subsidiaries and sales partners on all continents. We offer excellent local service and consultation in 56 countries around the world. Our partners and contact information
ZwickRoell, Australia

Represented by

ZwickRoell Pte. Ltd.

18 Boon Lay Way, #06-105/106, TradeHub 21

609966 Singapore

Singapore Asia

Vcard

Google Maps

Contact form

ZwickRoell, Azerbaijan

Represented by

ZwickRoell Malzeme Test Sistemleri San. ve Tic. Ltd. Şti.

Merkez: Kaya Millenium İş Merkezi, Cumhuriyet Mah. Gürpınar Yolu Cad., No: 5/A C-Blok Kat: 8 Beykent

34500 Büyükçekmece – İSTANBUL

Turkey Europe

Vcard

Google Maps

Contact form

Pure Life Medical Equipment W.L.L

Road 5541 Build 2118RBlock 255 office13 Galali Amwaj Road

Manama

Bahrain Asia

Vcard

Google Maps

Contact form

ZwickRoell, Bangladesh

Represented by

ZwickRoell Pvt. Ltd.

Guindy

SKCL ICON, 3rd Floor, C-42&43, CIPET Road, SIDCO Industrial Estate

600 032 Chennai

India Asia

Vcard

Google Maps

Contact form

ZwickRoell Ltda.

Ville Sainte Hélène

Rua Ana Viana Silveira Franco, 18 - salas 35 a 38

13105-823 Campinas

Brazil South America

Vcard

Google Maps

Contact form

ZwickRoell, Canada

Represented by

ZwickRoell LP

1009 Market Center Drive NW

Kennesaw, GA 30144

United States North America

Vcard

Google Maps

Contact form

Relaf S.R.L.

Region Metropolitana

Los Dominicos 8630, of 508, Las Condes

7550000 Santiago

Chile South America

Vcard

Google Maps

Contact form

ZwickRoell Testing Technology (Shanghai) Co., Ltd

Pudong District

Unit 1022, No. 999 Wangqiao Road, Chuansha

201201 Shanghai

China Asia

Vcard

Google Maps

Contact form

Team Testing Equipment(Guangzhou) Co.,Ltd.

Room 203-205, Building 1

No. 19 Shenzhou Road, Science City

510663 Huangpu District, Guangzhou

China Asia

Vcard

Google Maps

Contact form

SADEX Technical Consulting & Agencies

Dream House Building, Loran

6,8 Ahmed Farid Basha Street

21411 Alexandria

Egypt Africa

Vcard

Google Maps

Contact form

ZwickRoell, Equatorial Guinea

Represented by

ZwickRoell GmbH & Co. KG

August-Nagel-Straße 11

89079 Ulm

Germany Europe

Vcard

Google Maps

Contact form

ZwickRoell, Georgia

Represented by

ZwickRoell Malzeme Test Sistemleri San. ve Tic. Ltd. Şti.

Merkez: Kaya Millenium İş Merkezi, Cumhuriyet Mah. Gürpınar Yolu Cad., No: 5/A C-Blok Kat: 8 Beykent

34500 Büyükçekmece – İSTANBUL

Turkey Europe

Vcard

Google Maps

Contact form

ZwickRoell, Hong Kong

Represented by

Team Testing Equipment(Guangzhou) Co.,Ltd.

Room 203-205, Building 1

No. 19 Shenzhou Road, Science City

510663 Huangpu District, Guangzhou

China Asia

Vcard

Google Maps

Contact form

ZwickRoell Pvt. Ltd.

Guindy

SKCL ICON, 3rd Floor, C-42&43, CIPET Road, SIDCO Industrial Estate

600 032 Chennai

India Asia

Vcard

Google Maps

Contact form

ZwickRoell Pte. Ltd. Indonesia Representative Office

JL Kapt. Soebianto Djojohadikusumo BSD City, Tangerang Selatan

Roseville SOHO & Suite, S1601 Sunburst CBD Lot 1.8

15321 Banten

Indonesia Asia

Vcard

Google Maps

Contact form

ZwickRoell, Ireland

Represented by

ZwickRoell Ltd.

Worcester Six Business Park, Clayfield Road, Worcester

WR4 0AE Worcestershire

United Kingdom Europe

Vcard

Google Maps

Contact form

ZwickRoell Corporation

Kohoku-Ku

Shin-Yokohama 3-8-8, No16 Nisso Building 405

222-0033 Yokohama-City

Japan Asia

Vcard

Google Maps

Contact form

Petra Scientific Technologies L.L.C

Al Quds Street, Brazilia Comm. Complex, Office #10

11115 Amman

Jordan Asia

Vcard

Google Maps

Contact form

ZwickRoell, Kuwait

Represented by

Emphor Fzco

Office No. 1113, Burlington Tower, Business Bay, P.O. Box 61232

Dubai

United Arab Emirates Asia

Vcard

Google Maps

Contact form

AL DIYAR INTERNATIONAL Co. S.A.R.L

2nd floor, Block C5, Hazmieh Commercial Center, Damascus international road,

Hazmieh (Baabda)

Lebanon Asia

Vcard

Google Maps

Contact form

ZwickRoell, Liechtenstein

Represented by

ZwickRoell GmbH & Co. KG

August-Nagel-Straße 11

89079 Ulm

Germany Europe

Vcard

Google Maps

Contact form

ZwickRoell, Macao

Represented by

Team Testing Equipment(Guangzhou) Co.,Ltd.

Room 203-205, Building 1

No. 19 Shenzhou Road, Science City

510663 Huangpu District, Guangzhou

China Asia

Vcard

Google Maps

Contact form

Inno Lab Engineering Sdn. Bhd.

Subang Permai Industrial Estate

No. 3, Level 1 & 2, Jalan USJ 1/31

47160 Subang Jaya

Malaysia Asia

Vcard

Google Maps

Contact form

ZwickRoell, Mauritius

Represented by

ZwickRoell GmbH & Co. KG

August-Nagel-Straße 11

89079 Ulm

Germany Europe

Vcard

Google Maps

Contact form

ZwickRoell, Morocco

Represented by

ZwickRoell S.a.r.l.

4 Rue Royal Canadian Air Force, CS 45191

57530 Ars-Laquenexy

France Europe

Vcard

Google Maps

Contact form

ZwickRoell, Myanmar

Represented by

ZwickRoell Pte. Ltd.

18 Boon Lay Way, #06-105/106, TradeHub 21

609966 Singapore

Singapore Asia

Vcard

Google Maps

Contact form

ZwickRoell, New Zealand

Represented by

ZwickRoell Pte. Ltd.

18 Boon Lay Way, #06-105/106, TradeHub 21

609966 Singapore

Singapore Asia

Vcard

Google Maps

Contact form

ZwickRoell, Oman

Represented by

Emphor Fzco

Office No. 1113, Burlington Tower, Business Bay, P.O. Box 61232

Dubai

United Arab Emirates Asia

Vcard

Google Maps

Contact form

Techno World Instrument Service

Osif Center, Gulshan-e-Iqbal

Office # E-7, Block 13-A/1

Karachi

Pakistan Asia

Vcard

Google Maps

Contact form

Gryke Scientific Instruments Trading

Serverina Km. 18

237-B Worth Drive Street, Savvy 25 Subdivision

1700 Paranaque City

Philippines Asia

Vcard

Google Maps

Contact form

ZwickRoell, Saudi Arabia

Represented by

SADEX Technical Consulting & Agencies

Dream House Building, Loran

6,8 Ahmed Farid Basha Street

21411 Alexandria

Egypt Africa

Vcard

Google Maps

Contact form

ZwickRoell, Slovakian Republic

Represented by

ZwickRoell s.r.o.

Podnikatelská 2956/6

612 00 Brno

Czech Republic Europe

Vcard

Google Maps

Contact form

ZwickRoell Services LLC

C-404, Bundang-Technopark, 744, Pangyo-ro, Bundang-gu,

13510 Sungnam-city, Gyeonggi-do

South Korea Asia

Vcard

Google Maps

Contact form

ZwickRoell S.L.

Parc Empresarial Trade Center

Av. Corts Catalanes, 5-7, Pl. 2 Loc. 1

08173 Sant Cugat del Vallès (Barcelona)

Spain Europe

Vcard

Google Maps

Contact form

ZwickRoell, Sri Lanka

Represented by

ZwickRoell Pvt. Ltd.

Guindy

SKCL ICON, 3rd Floor, C-42&43, CIPET Road, SIDCO Industrial Estate

600 032 Chennai

India Asia

Vcard

Google Maps

Contact form

ZwickRoell, Sudan

Represented by

SADEX Technical Consulting & Agencies

Dream House Building, Loran

6,8 Ahmed Farid Basha Street

21411 Alexandria

Egypt Africa

Vcard

Google Maps

Contact form

ZwickRoell, Switzerland

Represented by

ZwickRoell GmbH & Co. KG

August-Nagel-Straße 11

89079 Ulm

Germany Europe

Vcard

Google Maps

Contact form

ZwickRoell Pte. Ltd. Taiwan Branch Office

Xitun Dist.

10F-3, No.201, Sec.2, Wenxin Rd

40758 Taichung

Taiwan Asia

Vcard

Google Maps

Contact form

SCS Instruments Co. Ltd.

Salathamasop, Thaweewathana

178/57 Soi Buddhamonthon, Sai 2 Soi 33

10170 Bangkok

Thailand Asia

Vcard

Google Maps

Contact form

ZwickRoell Pte. Ltd. Thailand Representative Office

No. 89, AIA Capital Center Building, Unit 2077, 20th Floor, Ratchadaphisek Road, Dindaeng

10400 Bangkok

Thailand Asia

Vcard

Google Maps

Contact form

ZwickRoell, Tunisia

Represented by

Technocid S.a.r.l.

Siège Groupe SIDER Zone Supérieure

Chaiba, Sidi-Amar, B.P. 62

23220 Annaba

Algeria Africa

Vcard

Google Maps

Contact form

ZwickRoell Malzeme Test Sistemleri San. ve Tic. Ltd. Şti.

Merkez: Kaya Millenium İş Merkezi, Cumhuriyet Mah. Gürpınar Yolu Cad., No: 5/A C-Blok Kat: 8 Beykent

34500 Büyükçekmece – İSTANBUL

Turkey Europe

Vcard

Google Maps

Contact form

ZwickRoell Malzeme Test Sistemleri San. ve Tic. Ltd. Şti.

Showroom: Birlik OSB 3. Cadde No: 73

34524 Beylikdüzü – İSTANBUL

Turkey Europe

Vcard

Google Maps

Contact form

ZwickRoell, Turkmenistan

Represented by

ZwickRoell Malzeme Test Sistemleri San. ve Tic. Ltd. Şti.

Merkez: Kaya Millenium İş Merkezi, Cumhuriyet Mah. Gürpınar Yolu Cad., No: 5/A C-Blok Kat: 8 Beykent

34500 Büyükçekmece – İSTANBUL

Turkey Europe

Vcard

Google Maps

Contact form

ZwickRoell Ltd.

Worcester Six Business Park, Clayfield Road, Worcester

WR4 0AE Worcestershire

United Kingdom Europe

Vcard

Google Maps

Contact form

ZwickRoell Pte. Ltd. Vietnam Representative Office

Tan Binh District

Room No. 1 - Mezzanine, Etown Building, 364 Cong Hoa Street

Ho Chi Minh City

Vietnam Asia

Vcard

Google Maps

Contact form