Simple operation
Start testing right away and simply be an expert user while maintaining maximum safety

Start testing right away Minimal training thanks to simple operation
With testXpert you can quickly train your employees and start testing right away. Operation is very simple and intuitive, the user interface is clearly laid out and the machine is already configured. And that along with maximum protection for both the user and the testing system. Materials testing made simple!
The following building blocks guarantee simple operation:
User management ensures select visualization of the tasks for which the user is responsible
In the testing software, every user only sees the tasks required to perform their job. This allows them to focus on their specific responsibilities, quickly become more independent, familiarized and ready to start testing. New employees are quickly integrated in you daily routines.
With the user management feature included in testXpert, you can assign corresponding rights to individual users.
Users see only what is relevant for them, and can therefore simply focus on their tasks. The user interface is well organized and easy to follow.
Reduce the risk of user input errors to a minimum. This simplifies operation, shortens the training period and prevents incorrect entries.
The standard is already part of the software program—100% guaranteed
If you test according to standard, testXpert makes your testing child's play. The software eliminates the time consuming effort to study the standard by already including it as part of the process. Standards are laid out in our standard test programs in such a way that all you have to do is determine the selection parameters. You can start testing right away—with 100% standard compliance.
Standard test programs simplify your daily testing routine. They are guaranteed to meet the underlying standards—whether ISO, ASTM, DIN, JIS or others. testXpert knows all relevant standards. Within the testing software, our own experts have also taken into account industry requirements that go beyond the standard. You really don't have to worry about anything, and can fully focus on your tests.
Repeatable test conditions – regardless of who tests when
Reproducible and reliable test results are the be all and end all and require the same test conditions at all times. Especially when operators change. testXpert provides you perfectly identical test conditions through system configuration—without creating any additional work for you.
Simply load your test method and start testing. In the background, the machine loads all required settings and parameters. For example, the absolute tool separation (clear starting position), the crosshead position or the specific sensor settings.
Change quickly and easily between different tests: after opening the test program, the testing machine is ready to test—regardless of who is operating it.
Incorrect machine settings are prevented. This also provides the highest level of safety for your users and the testing system.
Precisely repeatable test conditions thanks to testXpert's system configuration builder
Identical test conditions for all of your applications and after each test change
testXpert always knows HOW, WHERE and WITH WHAT to test
Precise absolute tool separation (example ISO 527: precisely 115 mm)
Automatic recognition of all sensors and verification in terms of application specifications
Sensor protection against overloads and damage
Applications-specific measurement ranges, filter functions and controller settings
Operator protection and specimen protection
Language swap with just one click
Globally engaged organizations greatly appreciate this function: With the testXpert language swap function, all terms, instructions and results can be displayed in the desired language with just a click. This makes it much easier for international teams to communicate with each other.
Not only the test process changes to the chosen language. Test reports can also be easily exported as a PDF file in another language.

testXpert contains all the knowledge so you can simply be an expert
Take advantage of the expert knowledge included in testXpert and save time on both training and knowledge transfer, as well as information gathering. With testXpert, you will quickly become a testing professional without the need for prior knowledge!
All standard specifications are already included in testXpert, with all possible results and the correct terminology.
testXpert guides you step-by-step through your individual tasks.
The intelligent wizard doesn't miss a thing: it shows you all the required settings for the test.
The automatic plausibility check prevents incorrect entries and detects possible risks for the user, the machine and the specimen.
The results are automatically generated in the report in a professional format and clear layout.
The intelligent wizard doesn't miss a thing
testXpert guides you through the various parameters step-by-step and shows you which settings are relevant for your tasks. Clearly designed images and graphs and practical mouseovers provide you with useful supplemental information about the parameters. And as soon as you have completed a task, it is marked as such, so you can keep track of it at all times.
For a good overview, testXpert hides irrelevant dialogs. Whenever the selection of a parameter requires additional input, the dialog reappears. A marker informs you about the necessary input. This way you don't forget anything and always keep an overview
The wizard shows you the way
The wizard shows you the way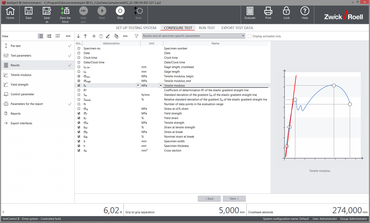 Result selection
testXpert offers preset results, which is especially advantageous for standard tests. Each result can be adapted to your individual requirements, and with the Results Editor option you can create as many results as you would like. You can choose from result types such as reference values, maxima, minima and average values, peaks, gradients and ZIMT scripts. ZIMT allows you to create any number of complex calculation and evaluation methods. The graphical display also helps with being able to quickly trace the result calculation.
Checking entries for plausibility
The wizard automatically detects whether all entries are correct. This example shows a warning notice that the crosshead speed was set too high. The permissible value range is displayed to support the operator.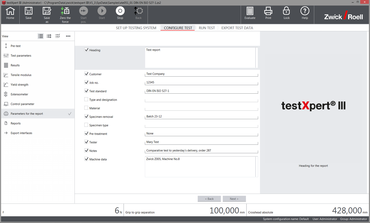 Parameters for a simple report
As standard, each test program includes a simple specimen report. The report automatically fills itself in with a curve graph and with tables for the results, specimen data, report and test parameters. The standard parameters for the simple report can be edited easily with the wizard.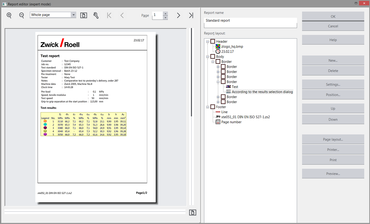 Report per individual requirements and specifications
Whether you need simple or very specific reports, the Report Editor option offers virtually unlimited possibilities. Any change made to the report is updated directly in the preview. Multiple reports can also be defined and saved with the test program.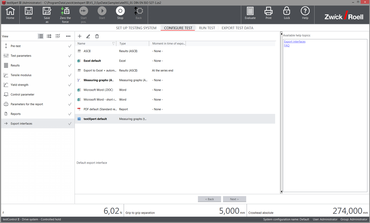 Export interfaces
testXpert offers several export options. Parameters, results, or measurement channels can be exported into Excel and ASCII files as well as be automatically integrated directly into the company database. With the Export Editor, diagrams and tables can be exported into common office applications or test reports can be sent via email. All test results can be automatically further processed, printed, sent, archived, imported and exported directly. Once set up, testXpert will perform all future imports and exports automatically.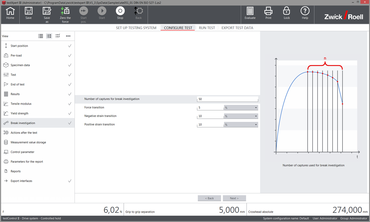 Advanced settings
The advanced wizard enables you to access additional settings, and provides parameter dialog boxes for the actual test configuration. Standard-compliant specifications included in the wizard are especially advantageous when performing standardized tests. The user is guided through the entire test configuration step by step.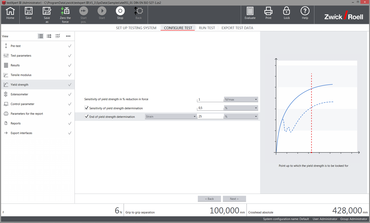 Visual help
The wizard's user interface uses visual highlighting for activated elements to make navigation fast and simple. Parameters already completed are marked with a check mark and specifications that still need to be completed are highlighted in red. Graphical depictions of the parameters further support intuitive operation.
Rest assured that there are no mistakes
Can operator errors be avoided when testing? They can be avoided with testXpert's intelligent safety concept, with which you protect not only the testing system, but also the specimen, and of course your users.
With testXpert, you avoid incorrect user entries, because testXpert always knows HOW and WITH WHAT to test. If, for example, an incorrect sensor is used, the system will notify you immediately. The same holds true for an entry that cannot be implemented, because the entered value would lead to a collision. Or in the case of entering an unrealistic value for the specimen dimension.
Testing machine and specimen are protected, because testXpert fully knows their limits. Based on the application and test equipment, limit values are established, which ensure that nothing is damaged. The limit values are defined according to the application and the components used.
The specimen is protected from the beginning: The testing machine compensates for even the smallest forces that occur when clamping the specimen and guarantees reliable test results by excluding possible specimen pre-damage.
The operator is also optimally protected: Even the smallest forces outside of the test parameters, immediately stop the machine. And while the test is running, appropriate safety devices with electrical interlocking prevent the user from reaching into the test area.
You can rest assured that you are 100% safe when using this testing machine. With certainty!
Did we spark your curiosity?
Please feel free to contact our testXperts and allow us to demonstrate the simple operation with testXpert.