Intuitive and workflow-oriented touch operation
The zwickiLine can be controlled both via a PC and via a modern touch display. The operation of testXpert III is just as simple. Thanks to the intuitive and workflow-oriented operation, the operator always finds his way around - whether experienced testers or new employees.
Interested? Then make an appointment for a demonstration with us right away!
Quick familiarization with user management
Integrated user management allows you to define different user roles or directly adopt user roles that have been defined in the Windows accounts via LDAP.
testXpert III adapts to user management requirements, providing only those actions relevant to the relevant user role.
Users see only what is important to them so they can focus on the task at hand right from the start.
User input options can be reduced to a minimum. This simplifies use and reduces familiarization time and input errors.
The example on the left shows the view optimized for the tester (activated user management with limited machine and test configuration); the example on the right shows an administrator's view with full functionalities.
Language swap with just one click
For global companies, the language swap function in testXpert III provides significant benefits. The required language is easily selected with just one click. Not only can you use your preferred language to perform the test, you can also easily export test reports in PDF format in the language of your choice.
Standard-compliant testing with just one click
With testXpert, standard-compliant testing is just one click away. Whether you test to ISO, ASTM, JIS, DIN or other international standards, testXpert provides over 600 predefined test programs for 100% standard-compliant testing. Check it out for yourself!
The right wizard for every function
The right wizard for every function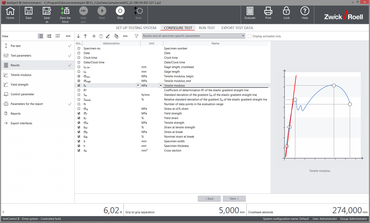 Result selection
testXpert III offers preset results, which is especially advantageous for standard tests. You can choose from result types such as reference values, maxima, minima and average values, peaks, gradients and ZIMT scripts. ZIMT allows you to create any number of complex calculation and evaluation methods. The graphical display also helps with being able to quickly trace the result calculation.
Checking entries for plausibility
The wizard automatically detects whether all entries are correct. This example shows a warning notice that the crosshead speed was set too high. The permissible value range is displayed to assist the operator.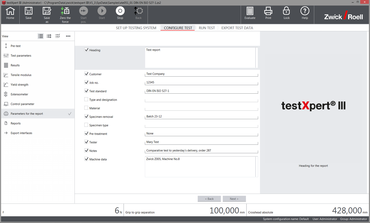 Parameters for a simple report
As standard, each test program includes a simple specimen report. The report automatically fills itself in with a curve graph and with tables for the results, specimen data, report and test parameters. The standard parameters for the simple report can be edited easily with the wizard.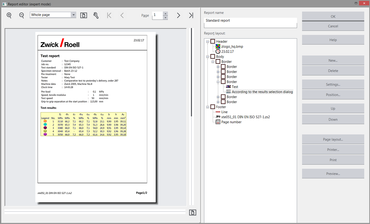 Report per individual requirements and specifications
Whether you need simple or customized reports, the Report Editor offers virtually unlimited possibilities. Any change made to the report is updated directly in the preview. Multiple reports can also be defined and saved with the test program.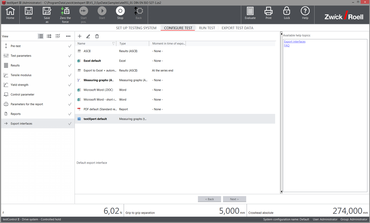 Export interfaces
testXpert III offers several export options. Parameters, results, or measurement channels can be exported into Excel and ASCII files as well as be automatically integrated directly into the company database. With the Export Editor, diagrams and tables can be exported into common office applications or test reports can be sent via email. All test results can be automatically further processed, printed, sent, archived, imported and exported directly. Once set up, testXpert III will perform all imports and exports automatically.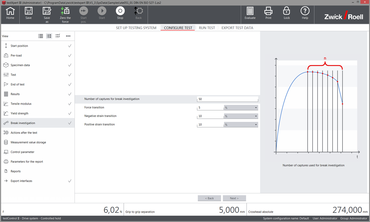 Expanded settings
The expanded wizard enables you to access additional settings, and provides parameter dialog boxes for the actual test configuration. Standard-compliant specifications included in the wizard are especially advantageous when performing standardized tests. The user is guided through the entire test configuration step by step.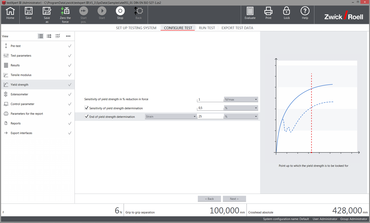 Visual help
The wizard's user guide uses visual highlighting for active elements to make navigation easy and fast. Parameters already completed are marked with a check and specifications that still need to be completed are highlighted in red. Graphical depictions of the parameters contribute to intuitive operation.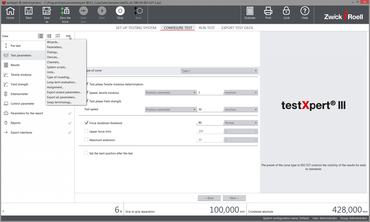 More configuration options
There is even a clear overview of individual customizations. All additional settings can be made simply with one click.