The Flexibility of testXpert
Simply more
In addition to guaranteed standard-compliant testing, reliable data evaluation, traceable test results, easy operation and future-proof data management, testXpert offers many other functions. Here is a small selection:
testXpert offers a variety of installation wizards
With a variety of wizards, software operation can be customized to different user requirements.
Standard wizard: The most important test and result parameters are found here.
Expanded wizard: Here the selection also includes parameter dialogs which enable expanded settings.
Customized wizard: There is no limit to how many wizards can be created. The active wizard is marked by a check.
The right wizard for every function
The right wizard for every function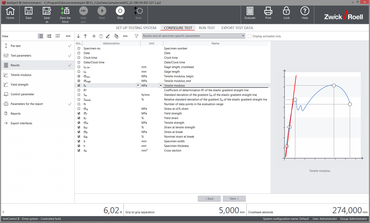 Result selection
testXpert III offers preset results, which is especially advantageous for standard tests. You can choose from result types such as reference values, maxima, minima and average values, peaks, gradients and ZIMT scripts. ZIMT allows you to create any number of complex calculation and evaluation methods. The graphical display also helps with being able to quickly trace the result calculation.
Checking entries for plausibility
The wizard automatically detects whether all entries are correct. This example shows a warning notice that the crosshead speed was set too high. The permissible value range is displayed to assist the operator.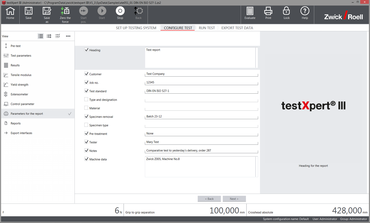 Parameters for a simple report
As standard, each test program includes a simple specimen report. The report automatically fills itself in with a curve graph and with tables for the results, specimen data, report and test parameters. The standard parameters for the simple report can be edited easily with the wizard.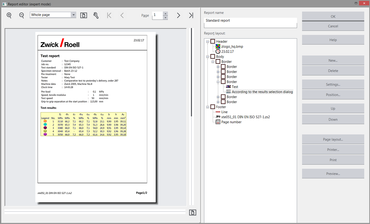 Report per individual requirements and specifications
Whether you need simple or customized reports, the Report Editor offers virtually unlimited possibilities. Any change made to the report is updated directly in the preview. Multiple reports can also be defined and saved with the test program.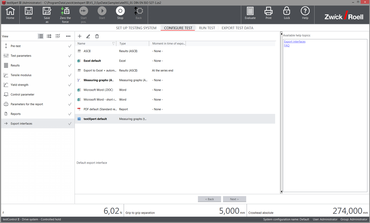 Export interfaces
testXpert III offers several export options. Parameters, results, or measurement channels can be exported into Excel and ASCII files as well as be automatically integrated directly into the company database. With the Export Editor, diagrams and tables can be exported into common office applications or test reports can be sent via email. All test results can be automatically further processed, printed, sent, archived, imported and exported directly. Once set up, testXpert III will perform all imports and exports automatically.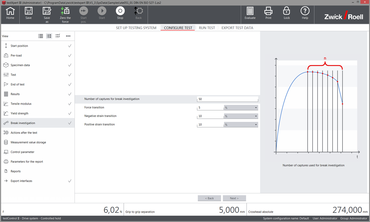 Expanded settings
The expanded wizard enables you to access additional settings, and provides parameter dialog boxes for the actual test configuration. Standard-compliant specifications included in the wizard are especially advantageous when performing standardized tests. The user is guided through the entire test configuration step by step.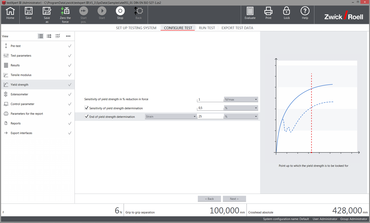 Visual help
The wizard's user guide uses visual highlighting for active elements to make navigation easy and fast. Parameters already completed are marked with a check and specifications that still need to be completed are highlighted in red. Graphical depictions of the parameters contribute to intuitive operation.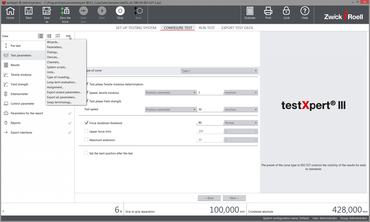 More configuration options
There is even a clear overview of individual customizations. All additional settings can be made simply with one click.
Unique System Configuration Builder
The unique system configuration builder makes it possible to define repeatable test conditions and offers maximum safety for the user and testing system.
All relevant testing system and safety settings such as crosshead position, tool separation, and sensor configuration are predefined and saved in a freely definable system configuration.
The test arrangement must be set up only once with one assigned system configuration, ensuring a safe, reliable setup process.
The saved system configuration automatically checks the connected sensors.
Direct assignment of the test program to the system configuration.
Preconfigured system configurations will be reloaded automatically after changing the test arrangement. This allows you to perform tests with identical settings.
The user does not need to adjust settings when tools are changed. The correct system configuration is automatically loaded in the background,
This ensures repeatable test conditions as well as maximum safety for the testing system and the user.
testXpert III always knows HOW, WHERE and WITH WHAT to test!
Test arrangement deformation measurement with the correction curve
For the performance of tests such as components testing without the use of an additional measuring transducer, testXpert III can make use of a correction curve. A solid steel cylinder is placed between the compression platens, and the machine is loaded up to nominal force. The deformation that is measured corresponds to the deformation of the testing machine, the load cell and the used compression platens. From this measurement, testXpert III determines a correction curve that is stored in the testControl machine electronics.
Maximum freedom provided by the graphical sequence editor
The graphical sequence editor provides you the highest level of freedom for your test sequence. You have the ability create individually tailored test sequences of any type, combining test events, parameters and results entirely in line with your requirements. It is the ideal tool for generating non-standardized test sequences,
and the intelligent design of the graphical sequence editor makes the job easy. Programming knowledge is not required, and learning
the functionality is simplified through graphic building blocks.
Synchronous Video Capturing for visualization of the test sequence
With the Video Capturing option, a video is recorded parallel to the test using a webcam or camcorder. Integrated hardware synchronization allows frame-accurate synchronization of testXpert III test data and video. During playback of the video the correlative test data are shown in the curve graph via cross-hairs; alternatively the cross-hairs are used to select any desired line of measured values and the corresponding video image is automatically obtained. This allows accurate retrospective visual assessment of the course of the test, e.g. when, how and where necking, buckling, delamination or change in color of the specimen occurred.
testXpert options: additional editors
testXpert options: additional editors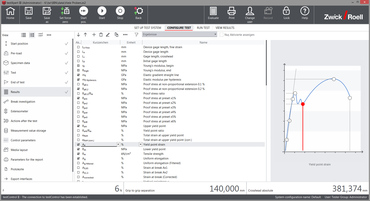 Results Editor
The Results Editor supports the creation of additional types of results
More results can be added to those already defined in the relevant test programs. Intelligent wizards help in the creation process.
The following types of results can be created: reference values, maxima, minima and average values, peaks, gradients and ZIMT scripts.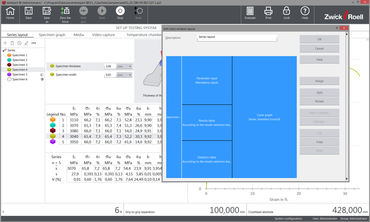 Layout Editor
The Layout Editor can be used to edit and create additional screen layouts and toolbars
Possible functions include the compilation of any number of screen layouts according to your preferences, with additional graphics, different test curve displays and much more.
You can easily switch between the different layouts and change the display format of the results.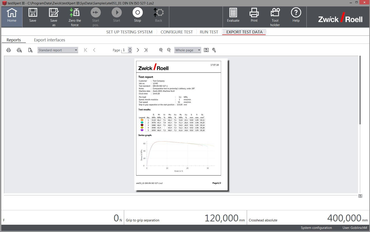 Report Editor
Fast creation and modification of test reports according to individual requirements and specifications.
Free creation of reports via structure editor with a comprehensive range of functions.
Multiple reports can also be defined and saved with the test program.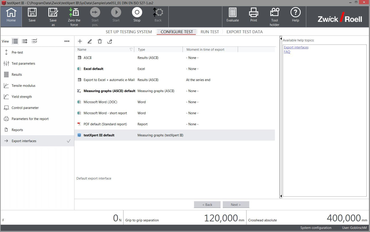 Export Editor
Simple export of parameters, results and measurement channels.
Direct export to Microsoft Excel with customized spreadsheets for parameters, results and measured values, incl. curve graphs. The number of measured values and test data grids can be freely configured.
Import/export of the measuring graphs of the marked specimens in ASCII format.
All test results can be further processed, printed, sent, exported and archived. Once set up, testXpert III performs all exports automatically.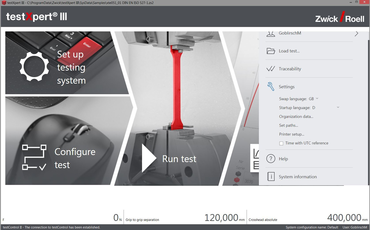 Organization Editor
The Organization Editor manages all data not directly associated with the tests, in a central location.
Data examples: general company data (e.g. company name, logo, tester, certificate number), standard report templates, individual prompts.
The ZIMT macro programming language provides the ability to easily integrate macros in many areas of testXpert III. These range from simple operator instructions to complex, customer-specific result algorithms.
This allows you to easily integrate necessary instructions in the test sequence. For example, the user can be reminded to remove all specimen remains after the test. In every case, a wizard guides the user through all the necessary steps.
Want to learn more?
testXpert offers a comprehensive range of options and features. Please contact us.