ZwickRoell 3103
Hardness tester to IRHD micro
Download
Standards
ISO 48
ASTM D1415
NFT 46003
BS 903 Part A26
Applications
The IRHD Micro Compact hardness tester (ZwickRoell 3103) is designed for hardness testing in the IRHD micro range on plastics and rubber and satisfies the requirements of ISO 48, ASTM D1415, NFT 46003 and BS 903 Part A26.
It is used in quality assurance and for goods inwards and outwards checks by plastics and rubber manufacturers and processors.
Advantages
The IRHD Micro Compact hardness tester consists of a test stand with built-in height-adjustable support table for specimens and an IRHD micro test device (ISO 48) with integrated electronics. It can be used for testing O-rings, seals, moldings and hoses; a minimum thickness of 0.6 mm is required.
A 1-line LCD display shows measurement range, test time and measured value.
The test time (0 – 99 s) and language (English, French or German) can be set via coding switches.
At the end of the test time the measured value is shown automatically on the display; the testXpert III testing software enables transfer to the PC via RS232 interface for processing and archiving.
With testXpert III the test results are automatically transferred to a suitably prepared test report and statistically evaluated. A clear, informative test report is essential for product quality in line with ISO 9000.
Key plus points:
- short training/familiarization time
- short measurement cycle
- no tedious travel to test starting point "100"
- rapid setting for series tests
- no adjustment required
A special centering station for rubber hoses, a magnifier and a swiveling mount with magnifying lens are optionally available.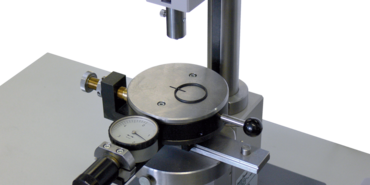 Rapid centering device for O-rings
As tests on O-rings using an IRHD or Shore hardness tester are virtually impossible without some means of locating them securely, this optional test device contains a centering station for O-rings to enable positioning to be monitored.
Do you have any questions regarding our products?
Please feel free to contact our product experts.
We look forward to discussing your needs.