Hegewald & Peschke testing machines
Manufacturer-independent modernization
Download
Included services
New measurement and control technology
New drive technology
Latest testing software
Latest accessories portfolio
Location of supply of services
At ZwickRoell in Ulm
On-site at your location
Modernizing Hegewald & Peschke testing machines with ZwickRoell
With our RetroLine modernization kits, every Hegewald & Peschke testing machine is again future-proof and up to date with the latest technology. By renewing the measurement and control electronics and the testing software, as well as changing the drive technology, your testing machine is again ready for the future:
Guaranteed spare parts availability for at least 10 years
Compatibility with current Windows operating systems
Comprehensive accessories portfolio
Years of experience
ZwickRoell has over 20 years experience in modernizing materials testing machines. In recent years, more than 6,000 testing machines were modernized and updated with state-of-the-art technology.
Long-term service reliability
Rapid assistance via Hotline and in the event of repairs
Guaranteed spare parts availability for at least 10 years
Compliance with new standards through up-to-date testing technology
Implementation of the latest Windows operating systems, such as Windows 10, for optimal integration in your IT environment

Innovative testControl II Machine Electronics
The use of testControl II measurement and control electronics ensures compliance with the most demanding safety requirements. All ZwickRoell materials testing machines are equipped with the powerful testControl II measurement and control electronics, offering the ideal basis for precise, reproducible test results. The electronics are mounted vertically on the side of the load frame.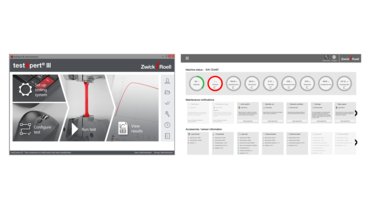 testXpert III testing software
In a modernization, the testXpert III intelligent testing software is implemented. testXpert III is the result of close cooperation with software users in the materials testing industry and the experience of over 35,000 successful testXpert installations. From the very start, testXpert III uses a workflow that is based on your lab processes to guide you step by step through your test. Get to know testXpert III and experience how easy it is to use.
More information about testXpert III
Additional Advantages & Features
Warranty for newly installed components is the same as with new machines
Enables validation of the testing machine in accordance with the latest quality standards
Re-use of expensive components such as extensometer and specimen grips
Conversion and re-calibration of existing load cells
Do you have any questions regarding our modernization products?
We look forward to discussing your needs.