Modernization of testing machines
Modernization of testing machines and systems is one of ZwickRoell's core competencies. With several thousand modernizations performed to date, we have been able to gather a vast amount of experience and know-how in the field of manufacturer-independent testing machine modernizations.
Materials testing machines and testing systems from over 50 different manufacturers can be transformed into state-of-the-art equipment using modern ZwickRoell measurement and control electronics, drive technology, and testing software. When modernizing testing machines and testing systems, we install the same proven components we use in our new machines, providing our customers with updated future compatibility.
+6.000
successfully completed testing machine modernizations
10 years
guaranteed service reliability and spare parts availability
Experience
with machines and systems from more than 50 different manufacturers
At ZwickRoell, we modernize static and dynamic testing machines, and update them to state-of-the-art condition. Contact us for an individualized quotation.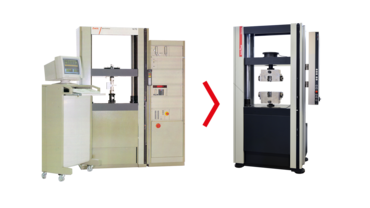 Reasons for modernizing your testing machine
There are many reasons for a modernization:
Obsolete testing software
Your operating system is no longer supported, e.g. Windows XP,
Windows 7
Measurement and control electronics are no longer supported
Changing testing situations or applications
Improvements in operational safety and reliability
Long downtime and waiting periods for the replacement of
obsolete electronic components
Testing machine modernizations are based on innovative ZwickRoell components and provide a number of advantages:
Reliable service and support for the entire testing system for a minimum of 10 years
Compatibility with current Windows operating systems
Use of intelligent and reliable testing software with testXpert III or testXpert Research
testControl II or Control Cube high-precision measurement and control electronics
Continued use of essentially all existing accessories
Expansion of accessories from our comprehensive portfolio
Full compatibility with comparable new machines
Upgradeability – your machine is equipped for future developments
Improved safety components
Painting and refurbishing of the load frame during a modernization at ZwickRoell's headquarters in Ulm