The Rosenheim University of Applied Sciences Evaluates Novel Materials Using the Amsler HIT1100F Drop Weight Tester
Ongoing development and research in the field of plastics play an important role in the world today. Regardless of industry, plastics have become an indispensable part of everyday life. The Rosenheim University of Applied Sciences in Germany uses materials testing machines and instruments from ZwickRoell for mechanical materials testing and research projects on plastics and fiber-reinforced composites.
The Rosenheim University and ZwickRoell have formed a long-standing partnership in materials testing, as well as in research and education.
Ideal laboratory equipment
New research project using the Amsler HIT1100F drop weight tester
The university is largely focused on research. The Amsler HIT1100F drop weight tester is currently at the center of a new research project being conducted by the Rosenheim University of Applied Sciences. The objective of the project is the evaluation of a novel material and is based on a drop weight tester performing impact bending tests. Subsequently, researchers verify the measured value accuracy through comparison tests on a HIT50P pendulum impact tester.
The drop weight tester stands out with its high level of flexibility and robustness. For specimens that require special mountings, the drop weight tester is equipped with a T-slot platform for flexible arrangement of the tooling. An additional benefit that the university appreciates is the high natural measuring frequency that allows for very accurate test results.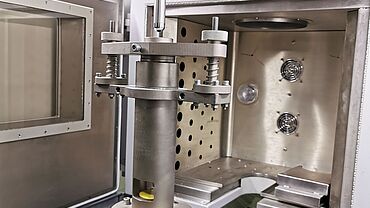 Development of new testing methodologies through cooperative collaboration
In the course of several research projects in the field of lightweight design and construction at the Rosenheim University of Applied Sciences, the adhesion strength of a wide variety of materials was studied in detail. Long-fiber-reinforced semi-finished products such as non-wovens and organic sheets with reinforcing ribs were functionalized. To determine the adhesion strength between rib and semi-finished product, a new test methodology had to be developed, which could provide meaningful and repeatable results.
Through an intensive exchange between the development departments at ZwickRoell and the Rosenheim University of Applied Sciences, we succeeded in designing and implementing a test device for composite adhesion strength through a hybrid process; see image.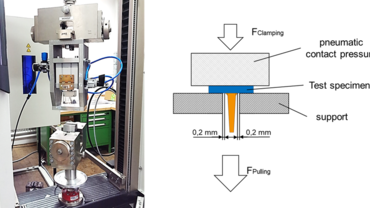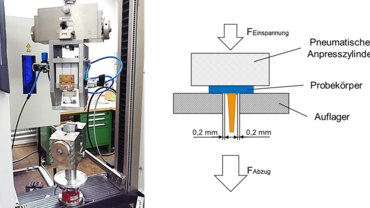 Software for every application
Every testing machine is equipped with the testXpert III testing software. With the standardized cross-system testing software, the two testing systems—the Amsler HIT1100F drop weight tester and the HIT50P pendulum impact tester—can be quantitatively and qualitatively compared and analyzed in a simple, uncomplicated manner. The wide range of standard test programs and the ability to establish customized settings are important criteria set by the Rosenheim University of Applied Sciences and are fully met by testXpert.
"We have relied on ZwickRoell and their testing machines and instruments for many years. Not only do we greatly value the ease in working with the products, the extremely high quality of the test devices, but also the impeccable field and customer service. The support in research and education is another reason why we look forward to working successfully with ZwickRoell in the future," said Roberto Lackner, technical specialist in the Laboratory for Fiber Composites and Structure Component Testing at the Rosenheim University of Applied Sciences