HCT/HBT servohydraulic testing machine
For determination of torsional oscillation (tension/torsion)
Download
Industries
Metals
Automotive
Medical
Academia
Construction materials
Test load
10 kN - 250 kN
250 - 1000 Nm
Type of test
Tensile incl. torsional oscillation
Compression incl. torsional oscillation
The testing machine for determination of torsional oscillation
The HCT and HBT series servohydraulic testing machines are used for the determination of torsional oscillation or tension/torsion tests.
These machines have a torsion testing actuator mounted on the upper crosshead. The HC and HB series variant can be used for combined tensile, compression and torsion loading. The optional T-slotted platform makes these machines very versatile.
The final element in our dynamic testing product portfolio is the manufacture of all the necessary accessories such as hydraulic power packs, servohydraulic testing actuators, or hydraulic distribution units. Our portfolio is constantly being expanded through a program of continuous development and inclusion of new products, allowing us to satisfy our customer's most demanding quality requirements while continually improving the quality of our products.
Description
The HCT series table-top model covers test loads up to 10 kN or 25 kN for servohydraulic oscillating torsion.
Testing actuator stroke 100 mm
Torque 250 Nm
Angle of rotation 100° (280° optional)
The HBT series floor-standing model covers test loads up to 250 kN for servohydraulic oscillating torsion.
Testing actuator stroke 100 mm
Torque 1000 Nm
Angle 100°
Additional details upon request
Advantages of the HCT
2-column frame for dynamic tests up to 25kN / 250 Nm
hydraulic adjustment and manual clamping of upper crosshead
testing actuator installed in upper crosshead
suitable for combined linear/rotary drive at 10 kN /100 Nm and 25 kN / 250 Nm
torsionally stiff, backlash-free length-compensating coupling
hydrostatic-bearing, sealless linear actuator
hard-chromed T-slotted platform and columns for tests in corrosive media
safety housing to comply with CE Machinery Directive depending on application
option: hydraulic wedge grips for tensile/compression-torsion tests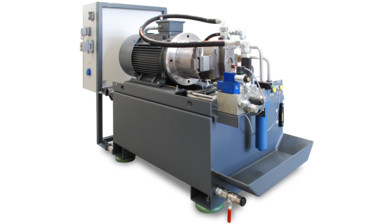 Hydraulic power packs
The HP series power packs feature high operational reliability and long service life. All components are mounted on top of the oil tank for easy access.
The self-priming radial-piston pump is driven by an asynchronous motor. The nine pistons are in hydrostatically balanced contact with the stroke ring. Flow rate is regulated by the stroke-ring eccentricity, which is adjusted via two control pistons located opposite each other. The pressurized oil is routed via a high-pressure filter and is then available to the appliance.A factory-set pressure relief valve prevents excessive increases in pressure.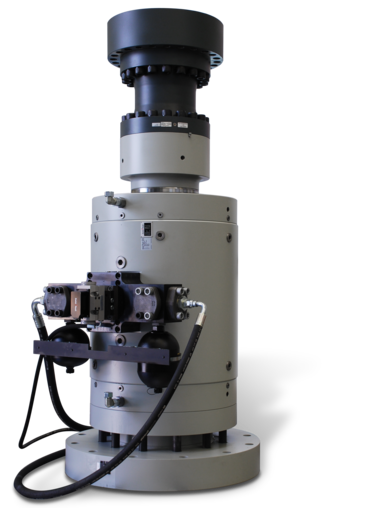 servohydraulic actuator
ZwickRoell's servohydraulic testing actuators feature sturdy, robust construction and are used both in servohydraulic testing machines and as single testing actuators, for example on a clamping plate. When used in conjunction with a servo valve they enable complex loading sequences to be implemented with great accuracy.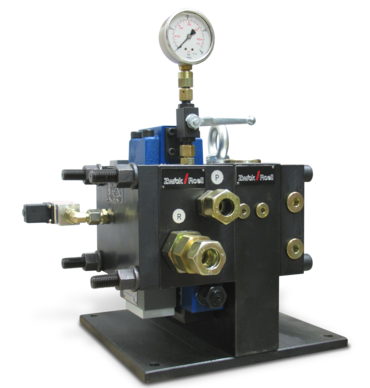 Hydraulic connection unit
The hydraulic distribution unit is the electrically operated switching device in servohydraulic testing machines. It connects or disconnects the hydraulic pressure for a servohydraulic testing actuator or servohydraulic testing machine.A connecting valve is allocated to each consumer, allowing them to be switched independently of each other. The modular design enables addition of an extra switching manifold whenever required.
Test-area height
Standard
Extended 250 mm
Extended 500 mm
Dynamic nominal force
25
25
25
kN
AG100 – max. height of test frame
2310
2560
2810
mm
AK - tilted dimension for installation
1750
1995
2240
mm
B — max. width of test frame
660
660
660
mm
C – max. depth of test frame
500
500
500
mm
D1 - distance between columns
460
460
460
mm
E – column diameter
65
65
65
mm
F - height of top edge of lower crosshead
215
215
215
mm
G – max. test area height1
1000
1250
1500
mm
H – max. working test area height2
910
1160
1410
mm
J - Crosshead displacement range
600
600
600
mm
K - weight3
435
450
465
kg
Frame stiffness at 1000mm crosshead separation
300
300
300
kN/mm
T-slot connection dimensions
as per DIN 508 M10 x 12, spacing 80 mm
Ø 70 mm, 6 x M8 (only 6 bolts) and
Ø 115 mm, 4 x M8
Clamping/ adjustment: manual/hydraulic
9352754
9361104
9362594
Distance between upper and lower crossheads
Distance between piston flange and base crosshead with piston retracted
Weight with actuator unit
Secure, stable mounting on support required; base 935284 recommended
Do you have any questions regarding our products?
Please feel free to contact our product experts.
We look forward to discussing your needs.
Product information: HCT servohydraulic testing machine (torsion)

PDF

308 KB

Product information: Hydraulic distribution unit

PDF

396 KB

Product information: Hydrostatic single testing actuator 10-50 kN

PDF

540 KB

Product information: Hydrostatic single testing actuator 100-1000 kN

PDF

480 KB

Product information: 20 l/min. hydraulic power pack

PDF

567 KB

Product information: 40 l/min. hydraulic power pack

PDF

567 KB

Product information: 80 l/min. hydraulic power pack

PDF

598 KB

Product information: 170 l/min. hydraulic power pack

PDF

391 KB

Product brochure: Dynamic

PDF

5 MB