2D DIC
2D Digital Image Correlation: Simply See More
Download
Max. measurement range
Dependent on the videoXtens
Temperature range
Ambient temperature
-80°C to +360°C
High temperature
Type of test + change in width
Tensile, compression, flexure tests
Cyclic tests
Strain distribution
Test re-run
Material
Composites
Metals
Plastics
Rubber, elastomers
Components
Geotextiles
Others
Simply see more: the 2D DIC software option for ZwickRoell videoXtens systems
The 2D DIC option does not require additional hardware. The software option is simply combined with the videoXtens and expands the functionality of the already installed strain measurement system
It allows for live strain measurement with a single extensometer, after which the 2D DIC analysis can be carried out.
ZwickRoell array systems offer you high resolution combined with a large field of view. They include several cameras, such as the videoXtens 2-120 HP, which allow you to simply see more in 2D DIC mode.
Key advantages and features
Key advantages and features
Simply See More
The ZwickRoell 2D DIC option makes local strains visible in 2D over the entire specimen surface. In combination with the standard strain measurement, you gain valuable additional information on specimen behavior for specimens that maintain a plane surface throughout the test. You are further supported by numerous analysis tools and an immediate display of the results in the form of various diagrams.
A number of examples can be found on the Digital Image Correlation page.
Convenient evaluation with testXpert III
The 2D DIC option was developed in-house at ZwickRoell and is fully integrated in testXpert III. With just one software system, live measurement and 2D DIC-analysis are performed and all measured values are managed.
Measured values, test results and images are stored, managed and evaluated together. You can easily and extensively analyze all measured values with each other. Strain values of a gauge length defined in the 2D DIC can be displayed and evaluated in a stress-strain curve.
You will reach your goal quickly and with just a few clicks: by specifying a workflow, you are guided step by step from setup to analysis and display of the measured values.
Prepare analysis parameters once, then save them in testXpert and use them over and over.
Reliable results: the 2D DIC-measured values are synchronized with the measured values of the testing machine.
Through the test re-run option for each evaluation a new specimen is added whenever you choose. This makes evaluation retrievable.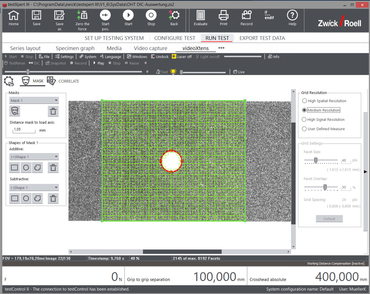 DIC setup: go with the (work) flow
Operating the 2D DIC is simple and intuitive. By specifying a workflow, you are guided step by step from setup to analysis and display of the measured values.
Description
Value
Type
2D Digital Image Correlation
Item No.
1018509
Frame frequency
Up to 50
Hz
Resolution specifications for virtual strain gauges with an edge length of 5x5 mm are dependent on the videoXtens system version:
videoXtens 1-120
90
µStrain1
videoXtens 1-270
150
µStrain
videoXtens 3-300
90
µStrain
videoXtens 2-120 HP
25
µStrain
videoXtens biax 2-150 HP
20
µStrain
Minimum version
testXpert III V1.61
The accuracy and resolution of the virtual gauge length corresponds with the videoXtens system used, i.e. videoXtens biax 2-150 HP: 0.15 µm and accuracy class 0.5 (ISO 9513)
Explanation of the resolution specification: 100 µStrain correspond to 0.01% extension. Based on a gauge length of 5 mm, 100 µStrain correspond to a resolution of 0.5 µm.
2D Digital Image Correlation (DIC):Simply Analyze
2D Digital Image Correlation (DIC):Simply Analyze
Analysis tools
Analysis tools in 2D DIC
Measuring points: these can be placed in any desired locations within a strain map.
Gauge lengths or virtual extensometers: establish two points on the strain map, between which the change in distance is to be determined.
Intersections: the strain progression is visualized along the lines. The intersection deforms with the specimen. In addition, there is an intersection stack through which selected time steps are displayed in a diagram, making the time-based development of the intersection visible.
Virtual strain gauges: for the virtual strain gauges, you can individually define the position, size and angle. In addition, multiple virtual strain gauges can be placed on top of each other at different angles. For example, two virtual strain gauges can be combined to form a biaxial strain gauge with measuring grids oriented at 90° to each other. The virtual strain gauges can save you a lot of time and cost.
Creation of graphs / diagrams
Graphical display / diagram
The following measured values can be displayed as strain maps and in diagrams:
Displacements in X direction
Displacements in Y direction
Local longitudinal strains Ɛx
Local transverse strains Ɛy
Local shear strains Ɛxy
Maximum normal strains
Minimum normal strains
Poisson's ratio
Equivalent Von Mises strains
Vector maps can be displayed in all strain maps, showing the main strain directions.
Export options
Export options:
Export of individual data in .csv
Export of the video in .avi
Export color map / diagram in .bmp
Do you have any questions regarding our products?
Please feel free to contact our product experts.
We look forward to discussing your needs.