The non-contact ZwickRoell video extensometers are ready for nearly any test task. From determination of the Poisson's ratio on fiber-reinforced composites in a temperature chamber, to automated break location identification on metals and high-extension elastomers, complete videoXtens systems offer optimal configuration options for special applications. In addition, the modular building block system provides utmost flexibility, fulfilling all needs.
Simple operation
Simple operation
Automatic gauge-mark recognition and acquisition of initial gage-length L0.
Tamper-proof: The enclosures of the complete systems are sealed with screw locking varnish, therefore nothing can be adjusted. This is an important requirement for reliable test results.
Simple alignment to the specimen: Through the connection to the crosshead (option), the videoXtens is aligned centrally to the gauge marks.
Compensation of various specimen thicknesses and testing of shear specimens.
Wear-free system, and as a result also low-maintenance. The systems have an extremely long service life.
Connection to third-party machines via ±10 V interface.
High accuracy and repeatability
High accuracy and repeatability
Extensometers mounted using stable, low-vibration support arms.
Housing provides protection against dirt and dust and inadvertent misalignment of the components.
Exact synchronization of all measurement channels.
Specially developed lighting provides continuous high-quality contrast ratios on the specimen, even with varying environmental conditions.
Industrial-quality cameras and high-quality, low-distortion lenses.
ZwickRoell extensometers exceed standards requirements, and are calibrated over the entire measurement range to ISO 9513 in the corresponding accuracy class.
The videoXtens 2-120 HP and videoXtens biax 2-150 HP are calibrated in accuracy class 0.5 to ISO 9513, with the first calibration point starting at 20 μm.
Additional calibration data-points for traceable, standard-compliant Young's modulus determination on plastics to ISO 527 (e.g. via additional calibration value at 25 µm) with the videoXtens 2-120 HP.
Compliance with strict requirements for determination of the tensile modulus to ISO 527 Appendix C (videoXtens 2-120 HP and videoXtens biax 2-150 HP).
The videoXtens biax 2-150 HP measures the change in width and Poisson's ratio with an incomparable accuracy never before seen with non-contact extensometers.
Automatic centering
Automatic centering adjustment
videoXtens tracks at half crosshead speed via the connection to the crosshead, keeping the testing operation automatically in focus and making optimum use of the measuring range (larger measuring range possible).
This results in increased system measurement accuracy; the gauge marks shift less in the image and are captured in the center of the lens (low lens distortion).
Testing without gauge marks
Pattern recognition: testing with software gauge marks
The innovative pattern-recognition algorithm allows virtual gauge marks to be applied to the specimen. The gauge marks can be changed retrospectively and re-calculated (Test Re-Run option). It doesn't get any more convenient!
The essential requirement is for a pattern on the specimen - either a natural pattern due to a structured surface or an artificial pattern which can quickly be applied using a marker spray or by stippling.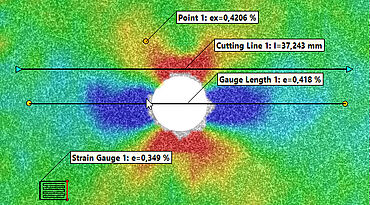 2D DIC
2D digital image correlation visualizes deformations and strain over the entire visible specimen surface. The non-contact videoXtens extensometer records image series during the test, compares image by image, and calculates the displacement in a pre-defined facet field, where each facet includes a specified number of camera pixels. This data is used to create two-dimensional color strain maps, which allow you to analyze the specimen behavior at a glance.
More on 2D Digital Image Correlation (DIC)
Test re-run
The optional Test ReRun module enables subsequent recalculation of strain on the basis of an image series recorded during a test, using a different initial gauge-length (provided multiple markings are present). This can be particularly advantageous in component testing, for example, when it is necessary to evaluate local strain at different locations, or in standard tensile tests when specimen necking has occurred outside the original initial gauge-length.
The recalculated strain can, of course, be synchronized subsequently with the other measurement values via the testXpert testing software.
Strain distribution
The Strain Distribution option enables determination of local strains at multiple measuring locations along the specimen gauge-length. These are available as channels in testXpert. Up to 16 measuring locations are automatically recognized and evaluated during the test. This option also allows automatic real-time symmetrical adjustment of the initial gauge-length around the necking (to ISO 6892-1, Annex I).
Video Capturing
Video capture is a recording of the test (without retrospective recalcualation). The recording is synchronized with the measured curve, enabling the test to be viewed retrospectively. The option includes no hardware, as recording and synchronization take place entirely via the videoXtens system.
Second measurement axis option
With this option, biaxial measurements can be performed: In addition to the longitudinal strain, transverse strains can also be recorded—for example the change in width. Alternatively, change in width can of course also be measured alone.
Two versions are available for measurement of transverse strain:
Direct measurement on the specimen edge without additional markings (required for the determination of the r-value). For this version a backlight is required.
Measurement of the specimen surface with dot markings or sprayed-on pattern. For this version the specimen is illuminated with an incident light lamp.
2D dot matrix
This option allows two-dimensional measurement of dots applied to a planar specimen surface. This enables determination of local strains and specimen inhomogeneities under load. X and Y coordinates, as well as the distances between dots, are available as measured values.
Up to 100 measurement dots can be measured in any desired arrangement or in matrix form. Display in testXpert III is limited to 15 channels.
This option uses only one camera for measurement; any other cameras present are switched off beforehand.
Deflection measurement
videoXtens can also be used for flexure tests. There are several options for measuring specimen deflection, depending on the type of test and the specimen condition and properties:
Measurement using incident light via marks on the specimen
Measurement using backlight on the specimen lower edge
Measurement of deflection in the test axis or of the polynomial approximation of the curve
Maximum deflection that can be measured: with videoXtens the maximum deflection corresponds to the FOV; with videoXtens Array to 1/3 of the total FOV (in this case deflection is measured with one camera only).
Product information: videoXtens biax 2-150 HP

PDF

2 MB

Product information: videoXtens 1-270

PDF

1 MB

Product information: videoXtens 2-120 HP

PDF

989 KB

Product information: videoXtens 1-120

PDF

225 KB

Product information: videoXtens 3-300

PDF

2 MB

Product information: videoXtens 1-32 HP/TZ

PDF

970 KB

Product Information:2D Digital Image Correlation (DIC)

PDF

1 MB

Product Information: videoXtens Array

PDF

2 MB