Tensile test on sheets and film to ISO 527-3
ISO 527-3, ASTM D882
Brief explanation of tensile properties to ISO 527-3
Films and sheets with a thickness of up to 1 mm are tested using strips or dumbbell specimens. The typical specimen shape used in ISO 527-3 and ASTM D882 is a strip specimen. This specimen shape can be easily machined using a specimen or film cutter. Dumbbell specimens are often used in quality control. For this, a direct measurement extensometer is required to measure the specimen strain directly at the specimen.
Typical test results are characteristics such as
Yield stress
Yield strain
Maximum stress
Nominal strain at break
When testing strip specimens, the strain at break results depend on the specimen shape and the type of specimen gripping used. We recommend the use of parallel clamping specimen grips. The grip inserts should be arranged so there is linear contact between the jaw and the specimen.
If you are looking for the optimal solution for each of your requirements, please contact our industry experts.
We look forward to discussing your needs.
Are you interested in automated testing of plastics?
Our robotic testing systems assume fully automated performance of tensile, compression, flexure and impact tests.
Automated test on films with the roboTest F robotic testing system
Quality control is imperative in the manufacturing of plastic products, such as films. In order to make materials testing in the manufacturing process efficient and safe, ZwickRoell developed the roboTest F robotic testing system.
The testing system is comprised of an AllroundLine testing machine with extended test area.
Specimens for tensile testing are fed into the system by a specimen magazine that holds up to 200 specimens.
The magazine consists of a base and a revolving chain with grippers for gripping the specimen.
These grippers vary depending on the specimen type and shape. This means that films and textiles of various dimensions can be tested by the same system.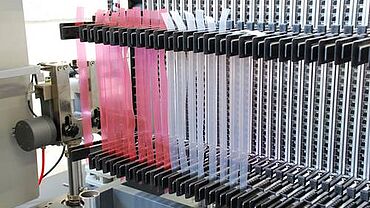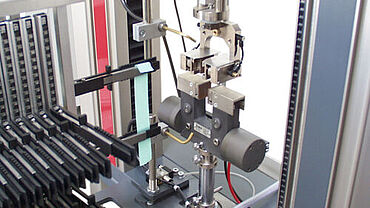 In addition to a medium-term reduction in testing costs, this system offers other benefits, which include error-free testing.
"Eliminating operator influence delivers high test-result reproducibility. The entire test is logged by the software and the test results are transferred automatically and accurately to the database,"explains Robert Kaifler, Product Manager at ZwickRoell. Furthermore, the system is compact, requiring little space and is therefore an ideal way to upgrade an existing ZwickRoell testing machine.
Manual tensile tests can be run at any time by simply removing the handling system. The system can also automatically determine the specimen thickness of the film, for example, and identify the specimen using a unique barcode. The test results can then be sent by SMS or email.

ZwickRoell has been an expert in robotic testing systems for over 25 years, and has installed more than 350 systems in a wide variety of industries across the globe.