High Temperature Testing up to +2,000°C
Accessories for AllroundLine materials testing machines
Download
Components
Temperature chambers
Furnaces
Vacuum chambers
Induction heating
Temperature controller
Specimen temperature measuring device
Extensometers
Load strings
Advantages
Precise temperatures
Reliable strain measurement
Secure specimen gripping
Optimally coordinated accessories are the foundation for reliable test results in high-temperature testing
To meet the many standards and customer requirements, ZwickRoell offers a large selection of modular high-temperature components for use with new and pre-owned AllroundLine testing machines, as well as for retrofitting machines from other manufacturers.
ZwickRoell offers complete solutions in a temperature range of -80°C up to +2,000°C for determination of the elastic behavior, resistance, and yield point of high-temperature resistant materials under high heat conditions. Not only the selection of the heating system to be used, but also reliable temperature control with suitable thermocouples, and a high-temperature load string with corresponding extensometer are essential for reliable results in high-temperature testing.
Accessories for high-temperature testing
Accessories for high-temperature testing
Heating systems
Different heating systems are available for the various applications and environmental conditions in high-temperature testing. Get an overview of the possible alternatives.
3-zone furnace up to +1,250°C
3-zone furnace up to +1,500°C
Short furnace up to +1,200°C
Chamber for vacuum and inert gas environment up to +2,000°C
Induction heating system up to +2,000°C
Carousel with 3, 4 or 6 individually controllable furnaces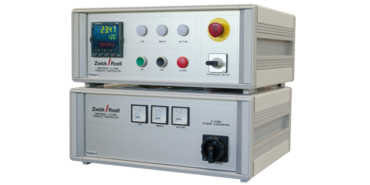 Switching and control system
At the center of every high-temperature test lies exact temperature control. The longtime proven temperature controller ensures reproducible, user-independent temperature control along the specimen. The switching and control system meets all requirements of the current international test standards such as DIN EN ISO 204, DIN EN ISO 6892-2, ASTM E139, ASTM E21.
Intelligent control algorithms for standard-compliant specimen temperature without overshooting for temperature stability along the specimen
Empirically determined control parameters for different specimen temperatures are no longer necessary
Automatic controller setting in a temperature range of +200°C to +1,200°C
Temperature tolerance on specimen, max. parallel length 100 mm:
+200°C to +350°C: ± 2K
+350°C to +1,200°C: ± 1K
Digital display of temperatures
Suitable for stand-alone operation and PC operation with testXpert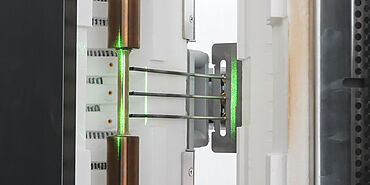 Specimen temperature measuring device
For exact specimen and furnace temperature control, the use of a suitable specimen temperature measuring device is necessary. Depending on the specimen geometry and the specimen spectrum, fixed or variable measuring devices with different thermal elements (Type K, N, S,...) are used. To ensure constant temperature along the specimen, normally three thermal elements are attached to the surface of the specimen.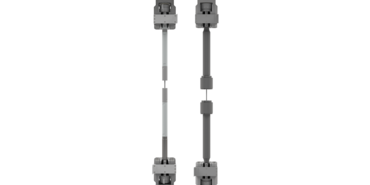 Load string for tensile tests
The high-temperature load string consists of:
Pull-rod mounting
Pull rod
Specimen adapter
The high-temperature load string transmits the force from the high-temperature specimen adapters in the furnace to the pull-rod mountings outside the furnace.
Therefore, the pull-rods as well as the specimen adapter must stand up to the particular thermal loads in high-temperature testing. Metallic high-temperature pull-rods are ideal for use up to a max. of +1,200°C and ceramic high-temperature pull-rods up to +1,500°C.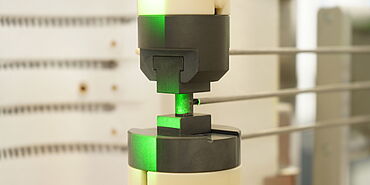 Load string for compression and flexure tests
Compression and flexure tests up to +1,500°C in air are performed with a ceramic load string. The die is typically fixed; the flexure test kit fully articulable to ASTM C1211. With the compression fixture, loads up to approx.10 kN can be applied; the flexure fixture allows loads of approx. 2 kN.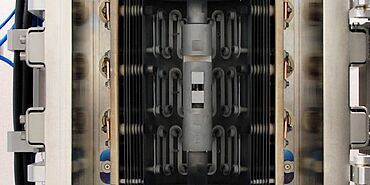 Load string for compression testing with reversal cage
Compression tests can also be performed with a reversal cage. Here the tensile force is converted to compression force through the reversal cage. Compression tests up to +1200°C can be performed in air as well as in vacuum. The benefit of the reversal cage lies in the high stability of the arrangement and low conversion effort from compression to tensile tests.
Extensometers
ZwickRoell offers a comprehensive selection of extensometers with different resolutions, measuring principles, and measurement displacement. A distinction is generally made between contact and non-contact extensometers that are used for measurement of extension, change in width, or strain measurement. The special requirements in high-temperature testing are taken into account with specially designed extensometers.
laserXtens 2-120 HP/TZ
laserXtens 1-32 HP/TZ
Non-contact extensometer
Overview of heating systems for high-temperature testing
We will find the optimal testing solution for your high-temperature application. Please feel free to contact our experts.
We look forward to discussing your needs.
Product information: High-temperature furnace up to 1,250°C

PDF

4 MB

Product information: Load string for tests up to 1,200°C

PDF

1 MB

Product information: Load string for tests up to 1,500 °C

PDF

1,023 KB

Product information: High-temperature extensometer up to 1,500°C

PDF

732 KB