Robotic Testing System roboTest X
For automated testing of special applications
Type of test
Tensile
Compression
Flexure
Special applications
Robotic Testing System roboTest X
The robotic testing system roboTest X covers customized solutions for special applications.
Examples of these robotic testing systems include:
roboTest X for compression testing on iron ore pellets
roboTest X for measurement of color transmission and reflection on plastic panels
roboTest X for roughness measurement
roboTest X as specimen blanking machine for elastomers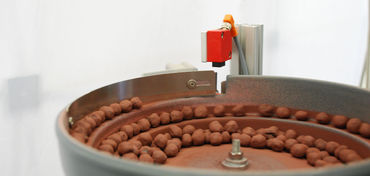 Operator influences (hand temperature/moisture, off-center or angled specimen insertion etc.) are eliminated resulting in high test-result reproducibility.
Qualified laboratory staff are relieved of routine activities, allowing them to focus on more complex tasks.
The machine can be used during idle times (lunch breaks and night shifts), which increases the full capacity and produces faster results.
The testing system reduces the testing costs per specimen and typically pays for itself within one to two years.
The system supports reliable documentation and statistical long-term monitoring.

autoEdition3 automation software
The autoEdition3 automation software is at the core of the robotic testing system. The software controls, regulates and monitors all automated processes, components and devices.
In combination with our testXpert testing software the autoEdition3 automation software delivers traceable and tamper-proof results. Immediately upon starting autoEdition3, the user experiences the benefits of intuitive operation from a look and feel that is consistent with the testXpert user interface.
Do you have questions about our automated testing systems?
Our product experts will be happy to advise you.