roboTest L Robotic Testing System
For automated tensile tests and flexure tests
Download
Industries
Plastics
Metals
Composites
Rubber
Medical
Standards
ISO 6892
ASTM E8
JIS Z2201
ISO 527-2
ASTM D790
ISO 178
The perfect testing systems for tensile or flexure tests
The roboTest L (linear) robotic testing system is used to perform fully automated tensile tests on metals (e.g. to ISO 6892, ASTM E8, JIS Z2201) or tensile and flexure tests on plastics (e.g. to ISO 527-2 , ASTM D790 or ISO 178).
The robotic testing system can also be used for tests on medical products, for example to test safety closures on medicines in a traceable and reliable manner.
Tensile testing (e.g. to DIN 53504 S2 or ISO 37) or tear growth testing (to ISO 34-1) on elastomer specimens can also be automated.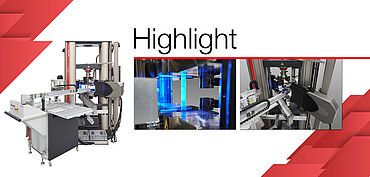 The future measures blue – and so does our roboTest L: with laserXtens
Non-contact measurement of extension and change in width – laserXtens supports the modern laboratory
The laserXtens is used for optical measurement of a material's extension and change in width.
The extension is measured on both sides of the specimen, since for a cold strip, for example, the material can flow unevenly on the two sides.
To optimize measurements, a blue light is used, by which precise and repeatable results are determined.
Robotic testing system roboTest L with the latest drive axis and Windows 10 – the workhorse for tensile tests on metals.
Due to its compact setup, the roboTest L takes up relatively little space. High specimen throughput provides fast results.
The system runs automated tensile tests up to 250 kN on cold strips with thicknesses of 0.5 mm to 10 mm.
The magazine can hold a maximum of 160 specimens.
Description
The system can be added to materials testing machines from 5 to 250 kN.
Removable magazine inserts can be filled at the operator's workplace. Alternatively, specimens can also be added to the magazine during the automatic sequence.
Manual tests can be performed whenever required—the specimen feeder simply swings out of the way for access.
A separate version of roboTest L is available for testing O-rings.
roboTest L can also be used for feeding specimens to other equipment (e.g. hardness measuring instruments, notch-cutting machines).
An industrial controller with autoEdition3 automation software controls the system
Optional components including a barcode reader, cross-section measuring device, HOST connection, accept/reject feature, disposal gripper, and status indicator complete the system.
Advantages & features
Operator influences (hand temperature/moisture, off-center or angled specimen insertion etc.) are eliminated for high test result reproducibility
Qualified laboratory staff are relieved of routine activities, making them available for more complex tasks
Machine can be used during idle times (lunch breaks and night shifts), which utilizes the full capacity and produces faster results
Testing system reduces the testing costs per specimen and typically pays for itself within one to two years
System allows for reliable documentation and statistical long-term monitoring
Components and accessories
Do you have any questions regarding our products?
Please feel free to contact our product experts.
We look forward to discussing your needs.