Creep Tests up to +2,000°C
Accessories for Kappa creep testing machines
Download
Components
Temperature chambers
Furnaces
Vacuum chambers
Induction heating
Temperature controller
Specimen temperature measuring device
Extensometers
Load strings
Advantages
Precise temperature
Reliable strain measurement
Secure specimen gripping
Wide selection of modular accessories for different environmental conditions in creep testing
For use with different applications and environmental conditions in creep testing, ZwickRoell offers a wide variety of modular accessories up to +2,000°C for the Kappa creep testing machines. The optimal combination of heating system, precise temperature control, suitable thermocouples, load strings and coordinated extensometers is the basis for reliable test results in creep testing.
Get an overview of the available accessories for the Kappa series and let one of our engineers assist you in your selection.
Accessories for creep testing
Accessories for creep testing
Heating systems
For creep testing systems there is a wide range of heating systems available, which meet the different standards and customer requirements. Get an overview of the possible alternatives.
3-zone furnace up to +1,200°C
3-zone furnace up to +1,500°C
Short furnace up to +1,200°C
Induction heating system up to 1,200°C
Chamber for vacuum and inert gas environment up to +2,000°C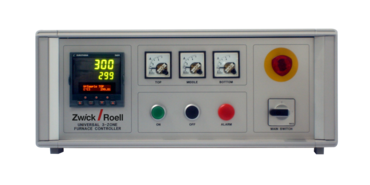 Universal 3-zone furnace controller
For creep testing in an extended temperature range, exact temperature control along the specimen throughout the full duration of the test is essential. The temperature controller developed by ZwickRoell and proven for many years, ensures precise, reproducible, and user-independent temperature control of the specimen during every test. The universal 3-zone furnace controller meets all requirements of the current international test standards such as DIN EN ISO 204, DIN EN ISO 6892-2, ASTM E139, ASTM E21.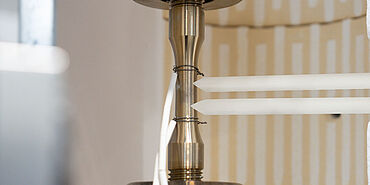 Specimen temperature measuring device
For temperature measurement directly on the specimen the ZwickRoell creep testing systems are equipped with a specimen temperature measuring device.
For creep tests normally up to three thermocouples are used, which are connected to the specimen. With the connection of the thermocouples it is ensured that the specimen temperature is measured on the correct location throughout the duration of the test.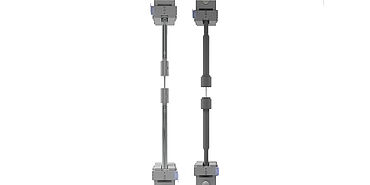 Load string for tests up to +1,500°C
For creep testing in high temperatures, ZwickRoell offers high-temperature load strings up to +1,500°C.
The load string consists of:
Pull-rod mounting
Pull rod
Specimen adapter
The high-temperature load string transmits the force from the high-temperature specimen adapters in the furnace to the pull-rod mountings outside the furnace. For creep tests in extended temperature ranges the pull-rods and specimen adapters therefore have to hold up to special thermal loads. Metallic high-temperature pull-rods are ideal for use up to +1,200°C and ceramic high-temperature pull-rods up to +1,500°C.
Non-contact extensometers
The differentiating advantage of extensometers featuring non-contact measurement is that they can be used right up to break without risk of damage, even with specimens that are critical in this respect. Sensitive specimen remain unaffected and with the laserXtens the need for time-consuming specimen marks is eliminated. Especially in an extended temperature range, non-contact extensometers provide a defining advantage over contact extensometers, since the access to furnace and temperature chambers can be sealed with view windows. Additional features such as another measurement axis for transverse strain and determination of strain distribution are further unique qualities that only a non-contact measuring system can offer.
With the wide selection of non-contact extensometers, our engineers are happy to help you find the right product for your application.
Find out more about the non-contact extensometer videoXtens 1-32 HP/TZ.
Contact extensometers
Contact extensometers for creep testing are available for tensile as well as compression and flexure tests. In addition to different accuracy classes and measurement ranges, extensometers for extended temperature ranges are also available. A distinction is made between side- and axial-attaching extensometers, which are suitable for special test types such as crack propagation testing. Depending on the specimen shape, different sensor arms are used. Well designed swivel units allow for easy operation and fast test-readiness.
With the wide selection, our engineers are happy to help you find the perfect contact extensometer for your application.
Overview of heating systems for creep testing
We will find the optimal solution for your creep test application. Please feel free to contact our experts.
We look forward to discussing your needs.
Product information: High-temperature furnace up to 1,200°C

PDF

725 KB

Product information: Load string for creep tests up to 1,200°C

PDF

1 MB

Product information: Load string for creep tests up to 1,500 °C

PDF

1,023 KB

Product information: Contact-type high-temperature extensometer

PDF

760 KB