FDA 21 CFR Part 11: Traceable and Tamper-Proof Test Results with testXpert
Guidelines for the medical and pharmaceutical industry according to FDA 21 CFR Part 11
The FDA 21 CFR Part 11(Code of Federal Regulations) regulation on electronic records and electronic signatures of the United States Food and Drug Administration (FDA) defines acceptance criteria for the use of electronic records and electronic signatures in place of records in paper form and handwritten signatures on paper. These electronic documents must be handled with as much confidentiality, be just as authoritative, and hold the same value as the paper documents.
Compliance with regulations FDA 21 CFR Part 11 and EU GMP guidelines Annex 11 is required for use with electronic records and signatures in a regulated environment. The use of conventional paper documents and handwritten signatures continues to be an option.
testXpert is the perfect solution to help you meet FDA 21 Part 11 requirements
Ever-increasing demands are placed on software used in the medical and pharmaceutical industries to document the traceability of completed actions.
With the traceability option, testXpert III enables logging of all actions and changes before, during and after the test, making test results and the documentation traceable and protecting them from manipulation.
Integrated user management and functions such as electronic records and electronic signature ensure that test results are always protected from tampering.
Together with the organizational measures and procedure instructions that apply to the individual companies themselves, the requirements of FDA in 21 CFR Part 11 are fulfilled.
ZwickRoell also offers a qualification service package (DQ/IQ/OQ) for validation support.
testXpert III logs all test and system related actions and settings and can therefore always answer the question
"When does who do what, why and who is responsible?"
The expanded traceability option can be configured as needed, and the degree of traceability can be defined. The administrator defines what must be logged and for which activities and events the user must enter a reason. In this manner, testXpert III offers the possibility of being individually adapted to the customer's QS regulations.
The Electronic Records function enables complete, tamper-proof documentation of all actions and changes performed in testXpert III. Users define the degree to which the actions must be logged and possibly explained in accordance with their regulatory requirements (for example, changes to a test-relevant parameter such as test speed). This data is stored in the audit trail.
The logging entries are saved automatically and independently from the type in the system audit trail or in the respective test programs/series.
The data is saved in binary coding and cannot be edited with Windows standard programs.
Output can be generated in "readable" form (HTML / PDF) in testXpert III at any time.
Logged data is archived in encrypted form.
The optional reason is automatically added to the respective report input (with the old and the modified value).
Comments can be inserted in the audit trail via a menu item.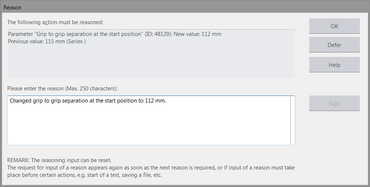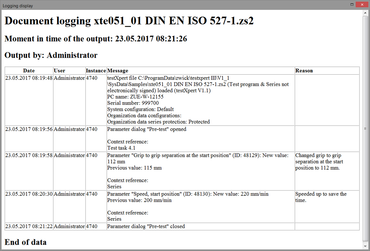 The electronic signature function also protects the test program/test series reliably from unwanted changes. It makes it possible to document who is assuming responsibility and at the same time, makes the audit trail paperless. The signature on the test report can be replaced by the test program/test series digital signature by entering the user name and password in the software, and it is possible to define how many people must sign and who has authorization to do so. Once signed, the test program and test series are protected from unauthorized changes.
Qualification of materials testing machines and instruments
A significant element of process validation in the medical engineering and pharmaceutical industries is the technical review of individual plant and devices. This qualification is also required for ZwickRoell materials testing systems used in the medical and pharmaceutical industry, because systems are subject to various legal requirements (for example, under Medical Devices Directive 93/42/EEC or regulations such as FDA 21 CFR Part 11).
ZwickRoell supports the qualification of materials testing systems in the DQ (design qualification), IQ (installation qualification), and OQ (operational qualification) processes by offering comprehensive and, if requested, individually tailored qualification documentation, as well as in the practical performance of qualification on site.
Do you have any questions regarding our products?
Please feel free to contact our product experts.
We look forward to discussing your needs.