Company culture and values
The culture and values of a company influence daily work as well as major business decisions.
We are open and honest with each other and with our partners and customers. We are a team and work together regardless of job title and role. We share a common goal—we generate profitable growth through a passionate commitment to our customers. This challenges us every day.
Compensation, employee benefits, and opportunities
Innovative, creative, dependable, passionate: whoever chooses ZwickRoell—whether as a customer or employee—benefits from genuine added value.
Our employees benefit from added value. In addition to a transparent, performance-based pay-structure, we offer numerous voluntary employee benefits, making employment at ZwickRoell an even more attractive proposition.
Compensation and incentives
We reward performance. In addition to standard compensation, based on the collective agreement of the Metals Industry of Northern Württemberg and Northern Baden as well as individual performance, our employees also receive an annual incentive bonus. Moreover, there are further compensation systems as well as many performance-related compensation components.
Our Wincentive system is designed to systematically reward above average and exceptional performance. This system is intended to motivate, reward, support team spirit and cross-departmental collaboration, and promote positive thinking.
ZwickRoell is a family-owned company and as such a healthy balance between work and life is important to us.
We promote employee work-life balance through flex time, thus allowing the perfect combination of work and family life.
Employees can accumulate a lifetime working account to enable them to take a sabbatical or early retirement.
We offer employees various part-time working options depending on the field of activity. We take into account almost every request, thus enabling employees a good transition back into the workforce after parental leave.
Personal development and Learning Week
Well-trained employees are our most valuable asset, and consequently we encourage employee personal and professional development.
ZwickRoell allocates a substantial budget every year to individually tailored, goal-oriented advanced training for employees.
One of our annual highlights is ZwickRoell Learning Week. Over the course of 6 days we offer more than 100 training courses. Training courses range in topics from technical to personal development.
ZwickRoell Expert Exchange Program (ZEEP)
As a global company, ZwickRoell supports its employees through ZEEP to broaden their professional horizons and to experience several weeks abroad.
Sending employees abroad for varying time periods is not uncommon at ZwickRoell; these exciting challenges allow the company as well as the employees to grow.
These opportunities include customer service calls, training for engineers at our subsidiaries and partner companies, or sales support consulting projects.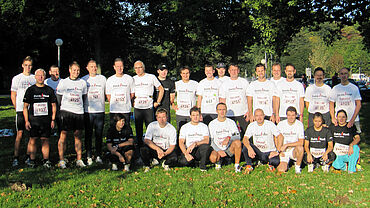 To promote workplace health, various wellness and fitness-oriented programs are available internally.
In addition, free medical screenings and check-ups are available during the year.
We also regularly organize Nordic walking dates and running groups, which also help prepare our employees who take part in the Ulm Einstein Marathon.