Mflow Extrusion Plastometer
The modular one
Download
The basic version of the Mflow extrusion plastometers can be used to determine melt mass flow rates (MFR).
It features a modular design, and use of the piston displacement transducer expands the Mflow's capabilities to include determination of melt volume flow rate (MVR), as well as automatic, field-dependent parameterization. These extrusion plastometers are typically used for quality assurance and incoming goods inspections.
Reliable Test Results
A precision piston transducer ensures accurate measurement of piston stroke when determining MVR. The contact point is very close to the piston, minimizing possible angle errors from the outset. The accuracy with which the flow rate is determined in Method B depends on the synchronization of the time-travel data pairs and on the accuracy of the time determination. As both measured quantities (time and travel) are available in digital form from the outset, there is no need for analog to digital conversion. This also eliminates synchronization errors. Quartz accurate time measurement also enables measurement of materials with high flow-rates.
Application Description
As the volume of testing increases, so does the need for a greater degree of automation (compared to Cflow). Mflow is capable of modular expansion and can be used to determine melt mass flow rate and melt volume flow rate.
The basic version of the Mflow extrusion plastometer is designed to perform MFR tests in accordance with Method A and can be upgraded for MVR tests as per Method B. Tests to the following standards are possible:
Methods A and B, ISO 1133
Methods A, B and C, ASTM D1238
ASTM D3364
JIS K 7210
You can optionally upgrade Mflow, for example by adding the pneumatic weight-lifting unit with or without cleaning function, or the weight selector.
Mflow can be operated in stand-alone mode via a modern touch display or on a PC with ZwickRoell testing software.
Cleaning
Simplified cleaning, with rapid expulsion of residual specimen material
The die plug is located on the underside of the extrusion barrel. Removing the die plug frees the die to move downwards, allowing it to be removed easily. Expelling the die plus residual material after the test is similarly quick and easy. Cleaning is simplified because the barrel is now accessible throughout. The Pneumatic Weight-lifting with Cleaning Function option also enables simple, convenient cleaning of the extrusion barrel at the touch of a button.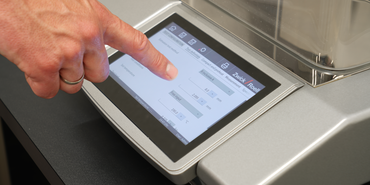 Intuitive and workflow oriented touch operation
The new standardized operating philosophy allows the operator to move easily between the instrument and the PC.
All test-related settings are grouped logically and are separated from higher-level system settings. The operator is guided through the test configuration step by step. The saved test configuration can be easily exported and transferred to other instruments.
Integrated user management reduces the number of operator input options to a minimum. Users see only what is important to them so they can focus on the task at hand right from the start.
The MVR is shown live in graphic form, in both stand-alone mode and in the ZwickRoell testing software. This allows both melting process and behavior to be followed precisely during measurement.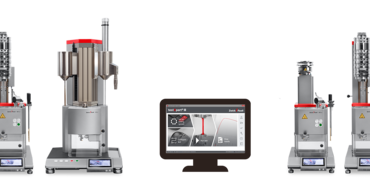 Saving space when testing with multiple instruments
In labs with multiple instruments, testXpert III makes it possible to configure and control up to six Aflow and/or Mflow extrusion plastometers with one PC. Central operation and the saving of results from a single workplace is rational and affords a quick overview of all tests currently in progress. For a clear overview of operations, we recommend using two monitors.
The benefits of operating an extrusion plastometer with testXpert III are:
Automatic bubble detection that prevents measurement errors caused by air inclusions by detecting them in the plastic melt
Live display of the melt volume rate that follows the progress of melting and the behavior during measurement and graphically or numerically displays the test piston speed when the test starts in cm³ per 10 min. or in g per 10 min. when the melt density is preselected
Pneumatic weight lifting unit
Depending on the plastic being tested, the Mflow extrusion plastometer can be fitted with different test weights.
To simplify the process, the weights can be lifted and lowered without physical strength by the pneumatic weight lifting unit.
The test weight can automatically be raised by the weight lifting unit when the preheating position has been reached.
This minimizes any premature flow of the plastic granulate during the preheating period.
If test weights with test loads of, for example, 2.16 kg, 5 kg, 10 kg or 21.6 kg are used with Mflow, we recommend use of the pneumatic weight lifting unit or the weight selector.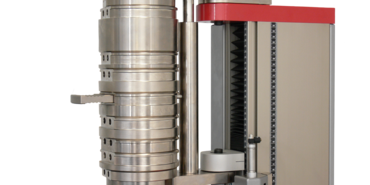 Weight pegging device
The weight pegging device has a pneumatic weight lifting unit and test weights as listed below:
If test weights are changed often, we recommend use of the weight pegging device.
The device for holding the piston in the preheating position holds the piston in a freely definable position during the preheating phase.
Characteristics of the Mflow
Type
Mflow extrusion plastometer (230 V)
Mflow extrusion plastometer (110 V)
Item No.
1043951
1043953
Test load
0.325 ... 21.6
0.325 ... 21.6
kg
Compressed air, oiled, dry(option for pneumatic weight lifting unit)
6 ... 10
6 ... 10
bar
Dimensions
Height
510
510
mm
Width
360
360
mm
Depth
419
419
mm
Weight, approx.
43
43
kg
Test temperature
+50 ... +450
+50 ... +450
°C
Display
Capacitive touch display
Capacitive touch display
Resolution of the temperature display
<0.1
<0.1
K
Number of savable parameter sets
>100
>100
Interfaces

Ethernet port to connect a PC
2 x USB port to connect a printer or USB stick
RS-232 port for raw data export, data output: serial number, specimen number, number of extrudates, density (user specifications) density at test temperature, overall weight of the extrudates, MFR average value, MVR average value, MFR and MVR individual values
RS-232 port for connecting the analytical scale (from the ZwickRoell product range)

Temperature accuracy in the range of 0 ... 75 mm above the die in the temperature range of 50 °C ... 450 °C
<0.31
<0.31
K
Time measurement:
Error limit (Method A)
±0.02 (with automated extrudate cutter)
±0.02 (with automated extrudate cutter)
s
Error limit (Method B)
± 0.01
± 0.01
s
Displacement measurement
Error limit (Method B)
±0.02 mm (ISO 1133) / ±0.4% of 6.25 mm (ASTM D1238)
±0.02 mm (ISO 1133) / ±0.4% of 6.25 mm (ASTM D1238)
Resolution
<0.005
<0.005
mm
Multi-instrument operation on one PC:
Available main memory, min.
1.54
1.54
GB
Clock frequency
3
3
GHz
Connectible Mflow extrusion plastometer per PC
6
6
Scope of delivery

Ethernet cable
Test weight for the load stages 325 g and 2.16 kg
Filler funnel
Cleaning accessories (cleaning piston, cleaning brush, cleaning pads (500 pieces)) for barrel
Test granulate and filling chute for granulate

Ethernet cable
Weights for load stages 325 g and 2.16 kg
Filler funnel
Cleaning accessories (cleaning piston, cleaning brush, cleaning pads (500 pieces)) for barrel
Test granulate and filling chute for granulate

Power input specifications
Power supply
220 to 240 V, 1L/PE/N
100 to 127 V, 1L/PE/N
Power consumption (full load), approx.
0.6
0.6
kVA
Leakage current, approx.
0.4
0.4
mA
Power frequency
50/60
50/60
Hz
Spatial and temporal, to ISO 1133-2
The manual extrudate cutter is recommended for cutting intervals greater than one minute. For short cutting intervals use of the automatic extrudate cutter is recommended in order to obtain precisely timed cuts.
Description
ArticleNumber
Extrudate cutters
Extrudate cutter, manually operated
087032
Extrudate cutter, automatic operation, automatic control via time interval or manually via push-button, including replacement blades (4x)
087035
Depending on the plastic being used, the Cflow and the Mflow can be fitted with the following test weights. These cannot be used for the pneumatic weight lifting unit with pegging.
Test load
[kg]
Required for this
Item No.
5
-
001380
5/10
-
001381
5/10/15/21.6
-
001443
1
-
001385
1.05
-
001386
1.2
-
001387
3.8
-
001459
12.5
Test weights with test loads 5/10 kg (Item No. 001381)
001389
(ASTM D3364) 20
Test weights with test load 5/10/15/21.6 kg (Item No. 001443)
008077
An extrusion barrel must be chosen to suit the materials to be tested. Different plastics containing fluoride, such as PTFE and PFA, release hydrofluoric acid, which corrodes the material of the extrusion barrel. For these types of plastics, extrusion barrels made from a special type of steel alloy are used.
Test material
Diameter, inner
[mm]
Properties
Item No.
Plastic, not containing fluorine
9.55
Wear-resistant
087025
Plastic, containing fluorine / not containing fluorine
9.55
Acid-resistant, wear-resistant
1069371
Do you have any questions regarding our products?
Please feel free to contact our product experts.
We look forward to discussing your needs.
Other companies rely on the Mflow extrusion plastometer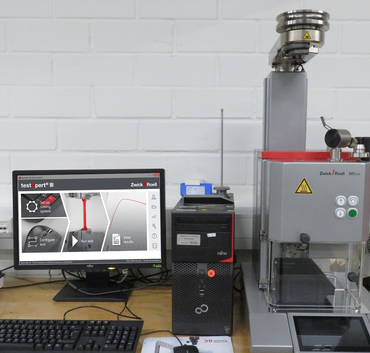 Kessel AG, Germany
The premium manufacturer of innovative products in the field of drainage technology relies on solutions from ZwickRoell:from materials testing machines and instruments to, most recently, the Mflow extrusion plastometer.The Mflow supports KESSEL AG during incoming goods inspections in terms of fulfilling specified material quality requirements.