Methods for Melt Flow Determination
Methods for Melt Flow Determination
Verfahren A, MFR
Bei diesem Verfahren wird das Extrudat in konstanten Zeitintervallen geschnitten und dessen Masse mit einer Analysenwaage bestimmt.
Das Prüfergebnis ist die extrudierte Masse pro Zeiteinheit, die in g/10 min angegeben wird.
Das Verfahren erfordert die Präsenz eines Bedieners während des gesamten Prüfablaufs und ist deswegen nur wenig automatisierbar.
Verfahren B, MVR
Anstelle der Masse eines Extrudates wird beim Verfahren B das extrudierte Volumen der Polymerschmelze in regelmäßigen Abständen bestimmt. Hierzu muss das Fließprüfgerät mit einer Kolbenwegmessung ausgerüstet sein. Das MVR-Ergebnis ist das extrudierte Materialvolumen pro Zeiteinheit. Es wird in cm³/10 min angegeben und errechnet sich aus dem Weg, den der Prüfkolben pro Zeiteinheit zurücklegt.
Beim Schmelzen mit homogener Dichteverteilung kann der MVR-Wert mit Hilfe der Schmelzedichte in einen MFR-Wert umgerechnet werden. Bei gefüllten Kunststoffen ist dies aufgrund der oft inhomogenen Verteilung des Füllstoffs nicht mit guter Genauigkeit möglich.
Ein wesentlicher Vorteil dieses Verfahrens ist der Wegfall des mechanischen Abschneidens. Der gesamte Prüfablauf kann ohne weiteren Eingriff eines Bedieners durchgeführt werden.
Verfahren C nach ASTM D1238, halbierte Düsenabmessungen
Der Einsatzbereich sind Polyolefine, die einen MFR-Wert größer 75 g/10 min zeigen.
Zu ihrer Prüfung gibt es zwei Alternativen: die Einstellung des Prüfgewichts auf einen entsprechend geringen Wert oder den Einsatz einer Düse mit halber Höhe und halbem Düsendurchmesser.
Diese Wahlmöglichkeit gibt es auch für Prüfungen nach ISO 1133-1. Eine direkte Vergleichbarkeit zu Ergebnissen, die mit der Standarddüse ermittelt wurden, besteht jedoch nicht.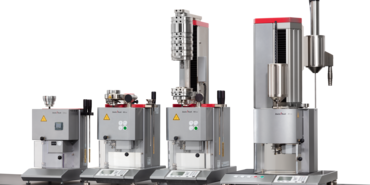 Verfahren D nach ASTM D1238, Mehrstufenversuch
Bei manchen Polyolefinen ist es üblich, den MVR-Wert für verschiedene Belastungsstufen anzugeben und das Fließratenverhältnis FRR zu bestimmen. Bei einfachen Fließprüfgeräten sind dazu Messungen aus mehreren Füllungen erforderlich. Fließprüfgeräte, die mit einer automatischen Belastungswechsel-Einrichtung ausgestattet sind, können Messreihen über mehrere Gewichtsstufen mit einer einzigen Füllung des Prüfkanals abdecken.
ZwickRoell stellt sowohl einfache Fließprüfgeräte nach Verfahren A sowie Geräte mit automatischer Wegmessung her, mit denen Prüfungen nach Verfahren A und B möglich sind.
Die APC Funktion - automatische Optimierung der Messintervalle
Bei der Fließratenmessung müssen die Messintervalle so eingestellt werden, dass sich möglichst große Messzeiten und – im Fall der MVR-Messung – auch große Messwege ergeben, um eine hohe Präzision des Verfahrens zu ermöglichen. Bei Verlassen des optimalen Bereichs steigt der Messfehler sehr schnell an.
Die Fließprüfgeräte der Baureihe Mflow und Aflow sind mit der APC-Funktion ausgestattet. Diese Funktion misst kurz vor Beginn der eigentlichen Messung die Laufgeschwindigkeit des Prüfkolbens. Mit dieser Information wird dann die bestmögliche Steuerungsart, also weg- oder zeitgesteuert, ausgewählt und das für den zu erwartenden MVR-Wert optimal passende Messintervall eingestellt. Zeitaufwändige Vorversuche können auf diese Weise entfallen und die Programmierung der Versuche reduziert sich auf die Angabe weniger Prüfparameter, die dann für alle zu prüfenden Werkstoffe gelten.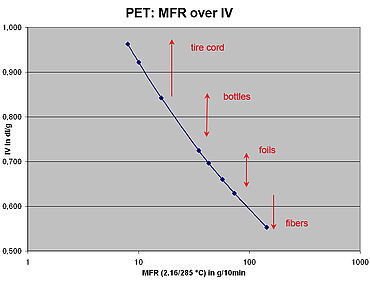 ISO 1133-2 Testing Moisture-Sensitive and Quick Degrading Plastics
Special precautions must be taken for tests performed on these materials (for example, PBT, PET, or PA). First, these materials must be sufficiently dried and must be dry when poured into the extrusion barrel. An optional nitrogen blanket at the extrusion barrel prevents direct contact by the material with the ambient air. The test is run in defined time sequences and they are recorded by the software. The extrusion plastometers must meet specific conditions for this purpose in terms of spatial and temporal temperature distribution in the extrusion barrel.
Correlation of IV measurements for the MFR value for linear PET
The molecular weight of polyethylene terephthalate (PET) is usually described in terms of intrinsic viscosity. This is the IV value in dl/g. The longer the polymer chains, the higher this characteristic value. This makes it possible to demonstrate molecular chains and how they can occur when moisture that is too high during the melting process.

The disadvantages of this method are that recyclers of PET in particular, are often not equipped to handle corrosive or toxic solvents. Furthermore, the fact that the test lasts a long time poses a practical problem. Therefore, measurement of the melt mass flow rate (MFR) has been used since the early 1990s in this area as well.

Using testXpert III to control the Mflow and Aflow extrusion plastometers makes it possible to determine the correlation between IV values and the MFR by means of premeasurements, which can then be applied to other measurements.
Next Generation Xflows: Aflow Extrusion Plastometer
The Aflow extrusion plastometer is ideally suited for MFR/MVR tests to ISO 1133/ASTM D1238. The Aflow is noted for being highly automated: Whether simple cleaning and defined pre-compaction at the press of a button, or infinitely settable test loads, the Aflow adapts to your test tasks.
We look for and find the optimal testing solution for every one of your requirements.
Get in contact with our industry experts.
We look forward to discussing your needs.