ZwickRoell - Your Trusted Partner for Testing in the Automotive Industry
ZwickRoell offers a comprehensive selection of dynamic and static testing solutions that meet new research, development and production requirements. At this year's testXpo we will not only show testing systems for fundamental challenges such as the use of materials and joining technology, but also comprehensive testing solutions for all relevant vehicle segments: drives, chassis, body, interior, safety, and electronics/mechatronics. We work closely with our customers in the development of electrical drives and battery technologies.
The customer application is our focus
Modularly customizable and customer specific testing systems reliably support quality assurance throughout the entire value chain in vehicle manufacturing. ZwickRoell's wide range of testing systems features modular design, enabling optimal adaptation to testing requirements. We offer testing solutions for standard-compliant tests via universal testing machines for a number of test tasks to fully automated complex testing systems. All ZwickRoell testing systems are synonymous with reliable test results, simple operation and a high level of availability.
Customization options:
Widened/heightened test area
Multiple system configurations in one machine
Adaptation of specimen grips and test fixtures
Integration of additional sensor technology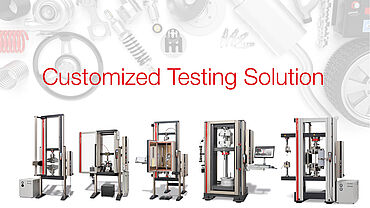 testXpert III intelligent testing software
testXpert III provides reliable determination, traceable evaluation, flexible display, and simplified management of test data.
The testXpert III testing software offers an intuitive operating concept for all testing machines and instruments. The workflow is consistent with lab processes and guides the operator throughout the entire process, from test preparation to performance to results analysis.