Objective of the autoinjector test to DIN EN ISO 11608-5
An autoinjector is a medical instrument (medical device) with which liquid medication can be administered, and is therefore subject to strict quality controls. In the past, autoinjectors were mainly used when a drug needed to be administered as quickly as possible by medically untrained persons. Examples of this are adrenalin injectors used in cases of anaphylactic shock and morphine or atropine injectors used by soldiers in combat missions. Today there are two other factors that contribute to the increased use of autoinjectors.
One is injection vs. ingestion, meaning certain substances (for example, biopharmaceuticals) cannot be administered in tablet form, because they would be digested in the patient's gastrointestinal tract and would not enter the bloodstream. The other is that the autoinjector functions as an extension to the doctor's arm. Injectors guarantee a high level of application safety.
The correct injection and proper dose of medicine are vital to achieve the best therapeutic success. Therefore, pharmaceutical manufacturers strive to achieve a high level of automation in autoinjector technology. The patient simply removes the safety cap, positions the injector, and injects the drug by pressing a button. The process that follows is completely automated. However, this also means that all of the injector's relevant functions must be checked before the production batch is released on the market. This test is performed to DIN EN ISO 11608-5.
Autoinjector testing to DIN EN ISO 11608-5 with ZwickRoell
ZwickRoell offers testing systems that can perform the following automated tests:
Removal force of the safety cap
Autoinjector activation force and travel
Injection time measurement
Determination of the administered drug volume, including the last drops with an integrated high-resolution scale
Effective needle length for injection
Safety function of the needle shield
Testing of injectors with/without actuating button
Color recognition on autoinjector/actuating button
Acoustic recognition of start/end of injection
Mistake-proofing through design (Poka-Yoke)
Daily checks on load cell, scale, microphone, needle-length and fluid-presence sensors, as well as color recognition
Measurement of ambient humidity and temperature
The integrated test offers the benefit that all tests can be performed on a single specimen without changing test tools. The testing system can be expanded to accommodate additional tests, satisfying a variety of market requirements and product developments. With an optional microphone to provide audible feedback, the system can detect autoinjector clicks, which indicate the start and end of the injection. In addition, an HD camera can be integrated to document liquid emission. You can save these images with the test results to support traceability. The machine can be equipped with a monitoring mechanism that complies with the requirements of DIN EN ISO 13849. testXpert III testing software manages the control and evaluation of these additional functions, as well as the entire test control sequence.
Multifunctional testing machine for all test sequences on one specimen
Elimination of operator influences through sequential tests on one injector
Five different Daily Checks guarantee reliable test results
Testing machine for autoinjectors with and without actuating button
Modular, flexible robotic system for fully automated specimen feeding
Fast cycle times
Validation support through expanded ZwickRoell qualification documentation (DQ/IQ/OQ)
DIN EN ISO 11608-5 – automation options
It is particularly important that the testing process save time and resources when dealing with large production batches. The testing system offers different levels of automation— from a manual solution to a fully automated robotic testing solution that places the injectors in the testing machine. A typical market solution is a semi-automated testing machine where the operator inserts the autoinjector into the machine, closes the safety door, and starts the test. All test steps are then carried out automatically by the machine.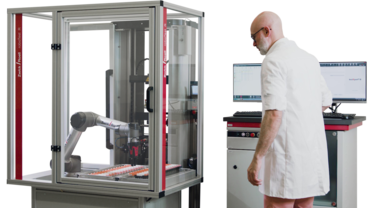 Test arrangement to DIN EN ISO 11608-5 – product details
Videos on autoinjector testing to DIN EN ISO 11608-5
We look for and find the optimal testing solution for every one of your requirements.
Get in contact with our industry experts.
We look forward to discussing your needs.
Traceable, tamper-proof test results in accordance with FDA 21 CFR Part 11
Traceable tamper-proof test results
Ever-increasing demands are placed on software used in the medical and pharmaceutical industries to document the traceability of completed actions.
With the traceability option, testXpert III enables logging of all actions and changes before, during and after the test, making test results and the documentation traceable and protecting them from manipulation.
Integrated user management and functions such as electronic records and electronic signature ensure that test results are always protected from tampering.
Together with the organizational measures and procedure instructions that apply to the individual companies themselves, the requirements of FDA in 21 CFR Part 11 are fulfilled.
ZwickRoell also offers a qualification service package (DQ/IQ/OQ) for validation support.
testXpert III logs all test and system related actions and settings and can therefore always answer the question "When does who do what, why and who is responsible?" 
Learn more about the testXpert III option
Traceability