Versions
AllroundLine 5 kN
zwickiLine 2.5 kN
Special feature
Multifunctional platform
DailyChecks for all sensors
PokaYoke error prevention
For different types of autoinjectors
Comprehensive performance range
21 CFR Part 11 requirements
Standards
ISO 11608-5
DIN EN 13849-1
Autoinjector testing systems from ZwickRoell: reliable test results guaranteed
Autoinjectors and pens used for the subcutaneous administration of medications, represent a fast-growing market segment of medical products.
To ensure that these devices function reliably and safely, they must be thoroughly tested by both autoinjector manufacturers and pharmaceutical companies, who fill them. For this purpose, reproducibility and traceability of test results, as well as reduced operator influences are of critical importance.
Videos on autoinjector testing systems
Features of the autoinjector testing systems
Features of the autoinjector testing systems
AllroundLine 5 kN vs. zwickiLine 2.5 kN
Currently there are two different types of autoinjectors on the market:
Autoinjectors with actuation via needle shield
Autoinjectors with actuation button
Properties of the AllroundLine
Pneumatic grips and cap grippers with automatic cap ejection into a container
Testing of injectors with activation via needle shield and actuation force
Measurement of the removal force of the injector safety cap
Measurement of the actuation force via the needle shield or actuation button
Measurement of the injection depth (optionally via HD camera)
Measurement of the injection time (optionally via HD camera)
Complete measurement of the weight of the fluid and calculation of the drug volume
Checking of the activated needle shield
Video recording of the injection process (time synchronous)
Removal of injector caps in the upward direction allows for tests according to the latest requirements (optionally through use of rotating device)
Acoustic click detection for the start and end of the injection
Coding of interchangeable parts and correlation with test program (Poka Yoke)
Color recognition on the autoinjector or actuation button or plunger
Daily Checks for all sensors
Testing of prefilled syringes with/without needle shield
Measurement of ambient humidity and temperature
OK/Not OK signal light
Plausibility check of the injection time (scale) option
testXpert testing software
The testXpert III testing software and the testControl II measurement and control electronics are designed to work together seamlessly, supporting efficient, reliable, and safe testing machine processes. The workflow is consistent with the work processes in the corresponding work environment, and guides the operator throughout the entire process, from test preparation to performance to results analysis.
The comprehensive software package contains, as standard, important programs that make daily work routines in the testing laboratory significantly easier:
testXpert III testing software for autoinjectors
Parameterizable test programs for performing autoinjector tests
Results Editor
Layout Editor
Report Editor
Export Editor
Organization Editor
Virtual testing machine VTM
Traceability for electronic records to FDA 21 CFR Part 11
Integrated user management allows you to define different user roles or directly adopt user roles that have been defined in the Windows accounts via LDAP.
Properties of the zwickiLine
Testing of injectors with actuation via needle shield
Testing of all functions with a single specimen
Small footprint of the testing system
Fast cycle times
Reduced test times for component tests and the complete sequence
testXpert III traceability ensures data integrity according to FDA 21 CFR Part 11.
The last drop of the injection is therapeutically relevant and is weighed during the test sequence and included in the result calculation.
Reliable test results by avoiding anti-static influences on weighing results
Removal of the injection-related spray mist allows for reliable detection of the injection depth/time, thereby guaranteeing reliable test results
DQ- IQ-OQ – qualification of installation and work processes
Removal of the last drop of the injection allows for clear recognition of the needle tip, thereby guaranteeing reliable test results
The electrically interlocked safety door protects the user from possible injury risks
Standard compliance
The following standards are pertinent:
ISO 11608: Needle-based injection systems for medical use – Requirements and test methods – Part 5: Automated functions 1
DIN EN 13849-1: Safety of machinery – Safety-related parts of control systems
Fulfillment of the test conditions in section 5.1.1 of the DIN EN ISO 11608-5 standard are the responsibility of the customer. ZwickRoell provides support in the fulfillment of this requirement (test conditions 5.1.1)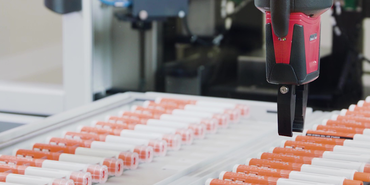 Testing assistant roboTest N
With the roboTest N serving as testing assistant, 30 autoinjectors can typically be automatically tested with one magazine filling. The smart robot supports laboratory personnel by feeding the autoinjectors into the testing system and in performing the test. Removal of the protective cap, gripping of the injector and actuation of the injection through compression are automatically carried out in the testing machine. After the test, the testing assistant removes the autoinjector from the fixture and discards it.
The testing assistant roboTest N can be easily adapted to changing test sequences with a high level of flexibility, without requiring programming knowledge. For all robotic testing systems, the autoEdition3 automation software is used for information input and control.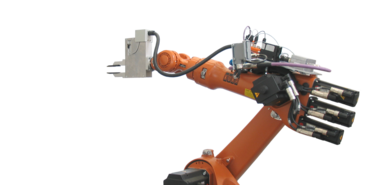 Robotic testing system roboTest R
The robotic testing system roboTest R is designed for fully automatic continuous operation (24/7) and is therefore set for consistent test requirements. The system also tests all relevant functions such as injection time, injection amount, needle length, actuation force and needle shield force. In addition, the ejection process is documented through video (Video Capturing).The robotic testing system takes care of discarding the tested specimens, and sorts them according to good/bad criteria.
To ensure reliable and comparable test results, all quality-relevant measuring devices such as the scale, load cell, displacement measurement and sensors for needle length and injection duration are verified on a daily basis (Daily Check).
Throughput at the lab can be increased significantly by using multiple autoinjector testing systems.Customers can either use their own trays for injectors or they can use the magazines provided by ZwickRoell. If necessary, additional measuring systems or testing machines can be integrated in the fully automated sequence.
Traceable and reliable test results
With the 21 CFR Part 11, the FDA specifies requirements on electronic records and signatures. The ZwickRoell whitepaper accurately describes the scope of the option in testXpert III. It enables logging of actions and changes before, during and after the test, making test results traceable and protecting them from tampering.
The traceability option can be configured as needed, and the degree of traceability can be defined. The logging entries are stored (automatically and according to type) in the system audit trail or in the relevant test program/test series.
Impressions about the AllroundLine autoinjector testing system
High operating comfort
High test speed consistent through to the nominal force
Ergonomically adjustable working height through support legs
Low noise generation
Powerful, maintenance-free drive
The testing system can be used in a temperature range of +10 ... +35 °C.
Type
Z005 TN
Test load Fmax
5
kN
Test area
Height
Lower test area
1030
mm
Upper test area (additional crosshead required)
1015
mm
Width
440
mm
Load frame
Dimensions
Height
1314
mm
Width
680
mm
Relative humidity (non-condensing)
20 ... 90
%
Weight
Average noise level at vmax measured at 1 m distance from the front of the machine
67
dB(A)
Drive system
Motor
AC servo motor with concentrated windings, Hiperface® motor feedback system
Crosshead speed vmin ... vmax
0.0005 ... 30001
mm/min
Crosshead return speed, max.
30001
mm/min
Drive travel resolution
0.959431
nm
Positioning repeatability (without reversal of direction)
±2.0
µm
Controller
Adaptive
Cycle time
1000
Hz
Values apply to machines with the safety doors closed in automatic mode and to machines without safety devices. For machines with the safety door open, the speed is reduced to 600 mm/min.
Autoinjector testing machine
Test load Fmax
2.5
kN
Load frame
Ambient temperature
+10 ... +35
°C
Drive system
Motor
DC servo motor
Control, set value preselection
Digital
Crosshead speed vmin ... vmax
0.0005 ... 10001
mm/min
Drive travel resolution
0.0277
μm
Positioning repeatability (without reversal of direction)
±2
μm
Values apply to machines with closed safety door and closed safety guard in automatic mode and to machines without safety device and/or without safety guard. For machines with the safety door and/or safety guard open, the speed is reduced to 600 mm/min.
Do you have any questions regarding our products?
Please feel free to contact our product experts.
We look forward to discussing your needs.