ASTM D790 3-point flexure test on plastics
The ASTM D790 standard, like the ISO 178 standard, describes 3-point flexure tests on rigid and semi-rigid plastics as well as on fiber composites with long-fiber reinforcements.
Typical test results include:
Flexural modulus
Stresses and strains at the yield point, at maximum stress and at specimen break
The tests are performed up to a flexural strain of max. 5%.
Requirements for the 3-point flexure test to ASTM D790
The specimens are manufactured by injection molding, or taken from sheets or plates via mechanical processing
Normally, specimens with a cross-section of 3.2 mm x 12.7 mm are used for plastic molding compounds. The defined thickness/support ratio of 16 leads to a support span of 51 mm.
For fiber composites, a thickness/support ratio of 16 can lead to undesired shear failure. If the ratio of tensile strength to shear strength is greater than 8, then larger support spans are used, with a ratio of 32, 40 or even 60 to the thickness of the specimen.
The ASTM D638 standard allows for deflection measurement via the testing machine's crosshead travel monitor. For more accurate measurements, the use of a directly measuring extensometer is recommended.
Calculating the flexural stress and strain takes into account small deflections and does not take into account any friction at the supports. For this reason, the method is limited to flexural strain of 5 %.
Extreme care is needed when measuring specimen dimensions for a flexure test. Since specimen thickness is calculated quadratically in the flexural stress, the measurement error result is also a quadratic function.A measurement error of only 0.1 mm with a specimen height of 3.2 mm (nominal) produces an error in flexural stress of more than 5%.


Simply and reliably start testing to ASTM D790 with testXpert
With our testXpert testing software the operator onboarding process is quick and testing can start immediately. They only see tasks that apply to their specific responsibilities and are guided step-by-step through the test according to ASTM D790.
All characteristic values and settings defined in the ASTM D790 standard are included in the standard test program with guaranteed standard compliance. The testing software guides the user through the test step by step.
Users only see the steps they have to perform, which are established through the user management feature.
Specimen dimensions to ASTM D790 are transmitted directly to the testing software through the connection of the micrometer and digital caliper, saving time and eliminating errors.
testXpert helps you achieve maximum testing efficiency. You can test up to 30% faster.
Maintain a quick, error-free overview
Through standardized interfaces, test tasks are quickly read in from your ERP or QS system without errors and the results are transmitted back after the test. This saves time in the transmission process and prevents errors.
Through centralized access to all test data via testXpert Analytics, an evaluation can be carried out on characteristic values from different test series. Also beyond ASTM D790: Tensile modulus, flexural modulus, tensile strength, notched impact strength, flow rates and other characteristic values can be easily reproduced and evaluated.
With our Trend Analysis feature, you have the ability to recognize longterm deviations with a simple longterm evaluation option.
3-point bend test for ISO 178
Along with its dimensional accuracy, a key feature of our sophisticated flexure test kit is accurate alignment. The supports must be precisely aligned with one another and with the die. In the stress-strain curve, angular errors can create a curve foot, which can significantly falsify determination of the modulus. Adjustable supports and well-designed gauges makes this task significantly easier. Centering stops on the supports make it easy to position the specimen with precision.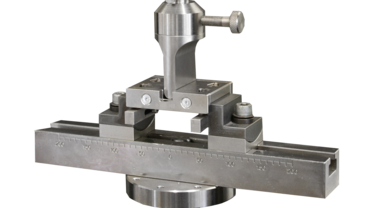 Are you interested in automated testing of plastics?
Our robotic testing systems assume fully automated performance of tensile, compression, flexure and impact tests.
If you are looking for the optimal solution for each of your requirements, please contact our industry experts.
We look forward to discussing your needs.