Applications
Hardness testing to ISO 14577
Scratch tests
Wear tests
Dynamic tests
Profilometer
Versions
ZHN for research & development
ZHN-S for quality control and standard test tasks
The ZHN nanoindenter is used for comprehensive, mechanical characterization of thin layers or small surface areas with the necessary force and travel resolution. This includes measuring indentation hardness, indentation modulus, and Martens hardness to ISO 14577 (instrumented indentation testing).
A testing concept offering versatility and flexibility
The ZHN universal nanomechanical tester is derived from ASMEC's proven nanoindenter technology. In this first-time development, two measuring heads are combined in the normal (nanodindenter principle) and lateral (scratch tester principle) directions, operating completely independently of each other with nanometer resolution. Lateral force-displacement curves can now be measured for the first time, allowing more material parameters to be obtained than was previously possible (see Typical Applications). This includes measurement of the lateral stiffness and purely elastic lateral deformation of the specimen.
The 2-column load frame features single central lead-screw drive and precision guidance, ensuring stiffer frame design, while the indenter axis is located exactly in the movement axis. No tilting moment occurs and Abbe errors are eliminated. Device stiffness is more than 106 N/m, eliminating the need for correction and greatly simplifying calibration of the area function.
In contrast to instruments by other manufacturers, both measuring heads operate in both tensile and compression directions, enabling indentation tests with a superimposed oscillation as well as cyclic fatigue tests.
Applications
Coating development from soft (polymer) to hard (diamond-type coatings)
Determination of critical stresses for cracking or plastic deformation
Hard material coatings for tools and as scratch protection
Protective coatings on glass
Paints and sol-gel coatings
Automated measurement of hardness traverses on transverse cross-section
Nano coatings for sensors and MEMS/NEMS
Biological materials
Matrix effects in alloys (mapping)
Ceramic materials and composites
Ion-implanted surfaces
Damage analysis in microelectronics
On the safe side with ZHN
Applications in science are constantly changing. Be on the safe side with ZHN, which features a single platform, delivering flexibility and reliability.
The ZHN has the highest signal-to-noise ratio for the entire nano and micro range (106) of all existing nanoindenters, normal and lateral.
With the 20 N measuring head, in addition to instrumented indentation tests in the macro range, classical Vickers hardness testing and fatigue tests can be performed.
The ZHN uniquely features real force and displacement control. The measuring heads feature high lateral stiffness—changing indenters is extremely easy and calibration or measurement accuracy are not influenced.
The lateral force unit (LFU) is ideal for scratch, wear and multiaxial tests: even for larger forces, lateral force displacement curves are measured in nm resolution.
Optimal workflow in the testing laboratory
The entire testing system is workflow-based and adapted for testing laboratory requirements.
Easy operation due to intuitive workflow
Timer function in InspectorX allows measurements during quiet times
The ZHN saves time: unique mapping function measures topography, the coefficient of friction and indentation depth in a single run
Enclosure for reducing environmentally related influences on the test result
Active vibration isolation and special support table for coupling external sources of interference
Alternative measuring heads can be stored safely
Flexible and modular
The flexibility of the ZHN testing system is displayed through its versatile range of application as well as through its modularity and ability to make subsequent adaptations.
Unique tandem optics with two cameras can be expanded to include optical evaluation units (e.g. WLI or AFM). These are completely integrated into the testing system.
The robust design enables integration of a wide range of indenters and specimen grips.
Changing indenters is incredibly easy.
InspectorX is a modern software with clearly structured design and application modules.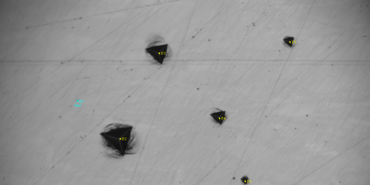 Hardness and Young's modulus to DIN EN ISO 14577
Measurement is typically performed with a Berkovich indenter with force control. Fast measurements are possible, for example with 10-s load, 5-s hold time, and 4-s load removal.
Measurable values:
Indentation hardness HIT (reevaluate in HV)
Martens hardness HM or HMs
Indentation modulus EIT (elasticity modulus)
Indentation creep CIT or relaxation RIT
Ratio of elastic deformation component to indentation energy nIT
A total of more than 60 values can be determined.
Comprehensive range of accessories
A comprehensive range of accessories provides flexibility and modularity.
The modular design of the universal ZHN nanoindenter consists of:
Two-column load frame with central lead screw drive, precision guidance and granite base
Motorized central lead screw drive and programmable motorized X-Y table
Three-axis step motor controller as PCl-E plug-in board
Tandem microscope with two cameras and LED incident light, green LED
Control electronics for machine and measuring head
Interchangeable measuring heads up to 20 N
InspectorX control and evaluation software
Software modules for Autofocus
Software module for overview image from combined individual images with large depth of field
ZwickRoell has implemented the radial displacement correction option in InspectorX in compliance with ISO 14577:2015
ZHN-S version for standard test tasks
The ZHN-S version was configured for quality control and standard test task purposes. Because this robust nanonindenter is easy to operate, it does not require a specialist. Animations and predefined applications in InspectorX support the operator during test preparation and test performance. Operating errors are reduced and a short training period is ensured.
The ZHN-S nanonindenter is permanently equipped with a NFU measuring head. The evaluation process is also simple: and automatic fit function and range selection for measurement data analysis simplify the evaluation of measurements on coatings.
Do you have any questions regarding our products?
Please feel free to contact our product experts.
We look forward to discussing your needs.
Product brochure: Hardness Testing with ZwickRoell

PDF

13 MB

Product information: ZHN – universal nanomechanical testing system

PDF

2 MB

Product information: Specimen grips for the ZHN nanoindenter

PDF

361 KB

Product Information: ZHN-S – Nanoindenter for Standard Test Tasks

PDF

3 MB

Product information: ZHN/SEM – nanoindenter for scanning electron microscope

PDF

1 MB

Product information: Specimen heater up to 400 °C for high-temperature nanoindentation

PDF

418 KB